Convoy M21B (CULPM1, 8A) Hands-on Flashlight Review
This is my review of the Convoy M21B (CULPM1, 8A). It's an excellent thrower and EDC with over 700m range. The M21B comes with a variety of LED options but I picked the CULPM1 for the best combination of throw and flood. Some prefer the extra brightness of the SFT40 but I rather have the additional throw of the PM1. This light has excellent heat dissipation, however, the 8A version can't be used for long on 100%. I'd recommend the 6A version for reduced heat and almost identical lumen output.
It's quite amazing how far this light throws with such a small reflector. There are no artifacts within the beam too, perfectly centered. This is easily one of my favorite EDC throwers, and the extra capacity of the 21700 cell gives me more confidence on long trips.
If you're looking for a great pocket thrower with a long run-time, make sure you watch this video.
Get the Convoy M21B here:
https://www.aliexpress.com/item/1005001739906319.html (6A)
https://www.aliexpress.com/item/1005002309018051.html (8A)
Please support my work by purchasing recommended products here (affiliate link): https://www.amazon.com/shop/watercolourmentor
This flashlight sample was sent to me by Convoy. I was not paid to do this review. All opinions are my own.
---
Convoy M21B Video Transcript/Notes:
General thoughts after a week of usage/size comparison/practicality:
• Strong pocket thrower with decent spill. feels rugged and sturdy.
• Fits easily in a pocket, though it didn't come with a clip and the head is slightly large, though necessary to achieve decent throw figures.
• Comparison with other pocket throwers.
LED, lens, bezel, and reflector:
• Perfectly centered LED. CULPM1 – 4040 (4mm2) footprint, better heat transfer. I went for the PM1 over the SFT40 as it throws further. Highest bin PM1s capable of producing 2000+ lumens @8A. Unsure what bin this one is. The NM1 can throw even more but with -300 lumens.
• Tactical style bezel, cutouts
• 27mm SMO reflector.
UI – modes:
• 12 selections + memory
• Recommend 3-5 mode selection due to heat.
Performance – total output, beam profile, longevity, practicality:
• Beam pattern is nice, not ringy. New gasket?
• Measured 728m throw with Opple Light Master Pro. It should be producing over 1500 lumens with the 8A driver.
• Slow, linear ramp down from switch on to 8mins (ended test, was still at 70% output at 8mins)
• CCT: 5600K, CRI: 65 (both on 100% reading)
| | | | | | | |
| --- | --- | --- | --- | --- | --- | --- |
| M21B | | | | | | |
| Mode | Candela @5m | Throw (metres) | | Mode | CCT (K) | CRI (Ra) |
| 100% | 132500 | 728.0109889 | | High | 5595 | 65.2 |
Measurements taken with an Opple Light Master Pro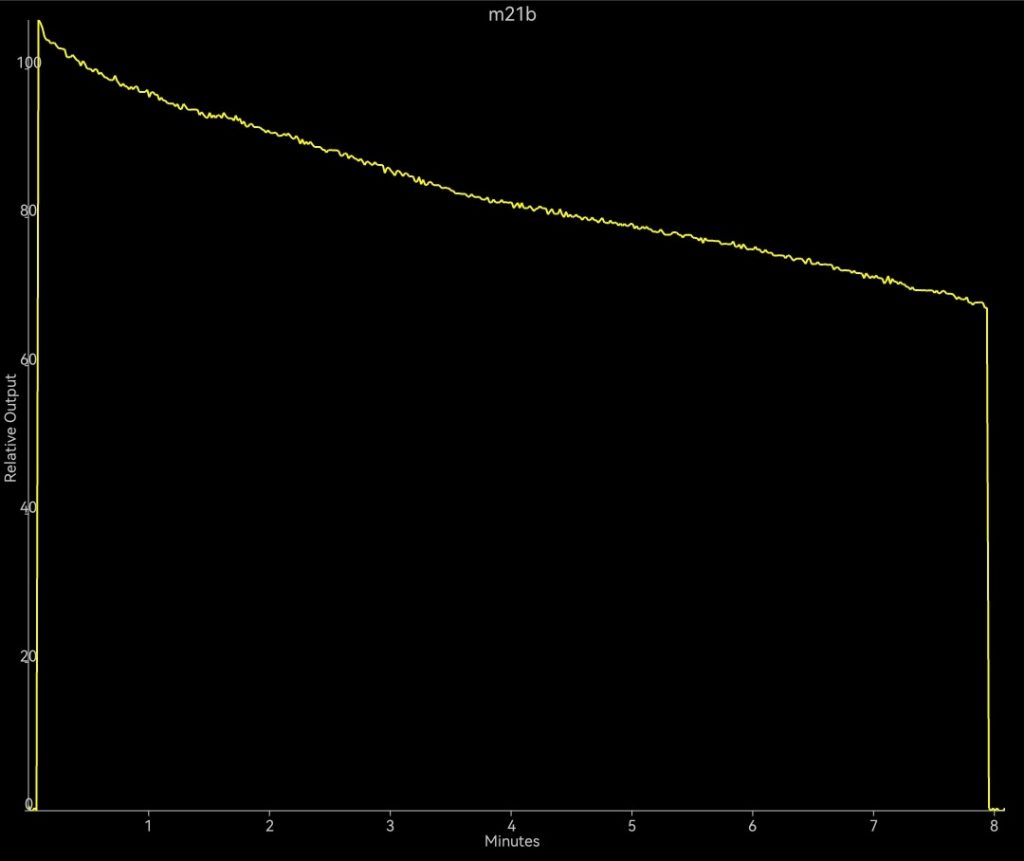 Considerations:
• Gets very HOT after a few minutes. Ramps down too slowly. Get the 6A version if you are worried. Ramping modes only go from 35% to 100%.
• No onboard charging – need external 18650 charger. No clip.
• A tactical switch would make this perfect.
Verdict:
Over-performing pocket thrower for a bargain price. I love the feel of it, the 700+m throw you get in such a small host. Link to the M21B on the AliExpress Convoy shop above. A few places sell Convoy lights, but I've found they're cheapest direct from Simon. I don't get any commission from these links either – just want to make sure you get the best price possible.