Convoy S2+ Titanium: Why this is my FAVOURITE S2+ yet!
Convoy has released two new titanium S2+ hosts! I have one in polished titanium and it's my favorite S2+ out of my collection. I got mine with the SFT40. The machining and weight are perfect, and it has a more premium feel in my opinion. Watch this video to find out more. Direct links to Convoy Official Store (these are non-affiliate links):
S2+ Titanium (Polished) 👇 https://www.aliexpress.com/item/1005005528214269.html
S2+ Titanium (Stonewash) 👇
https://www.aliexpress.com/item/1005005586614199.html
Please support my work and receive discounts by purchasing recommended products here (affiliate links below):
All Discount Codes (Master Spreadsheet):
https://docs.google.com/spreadsheets/d/15CgzoZD2X7lPhRpYQeR1tFws3DbI1Lmn4AUzIfOpzMo/edit?usp=sharing
Convoy S2+ Titanium: Video Transcript
General thoughts after a week of usage/size comparison/practicality/interesting things:
• This is hands down my favorite S2+ host! The S2+ in general is a great quality host on a budget, but the polished titanium just looks and feels a step above and more premium. Titanium is more robust than steel and slightly heavier than aluminum. The light feels really robust and refuses to scratch up. The SFT40 is my choice of emitter for maximum throw/output. Though the 519a offers superior color accuracy and tint options.
• Convoy also does a stonewashed version of this light
• Comparison with other S2+ models
Overall Construction, LED, lens, bezel, and reflector
• Beautifully machined. Silvery Gray colored. The bare metal feels premium, and more refined than the usual anodized aluminum. So you won't get chips and areas of the metal showing. The body will age nicely and scratches and knocks won't be much of an issue due to the density and hardness of the titanium alloy. The checkered knurling and cutouts of the head are simple and elegant. It's very grippy. Snapped on a stainless steel clip – no scratches. The ring cutout is too thin for a normal clip. I just clipped it on anyway.
• SFT40 with SMO reflector, can unscrew the head to access the pill. Simple bezel, that cannot be unscrewed.
UI – modes
• 12 mode grouping – tap the button 20 times when on. Tap once to enter the mode selection on the first flash. On the second double flash, click to activate/deactivate memory mode.
• Groupings are useful for selecting a mode that is useful for you. E.g. 100% for a cheap one-mode tactical light.
Performance – total output, beam profile, longevity, practicality
• Ceiling bounce, CRI, CCT
• Beam description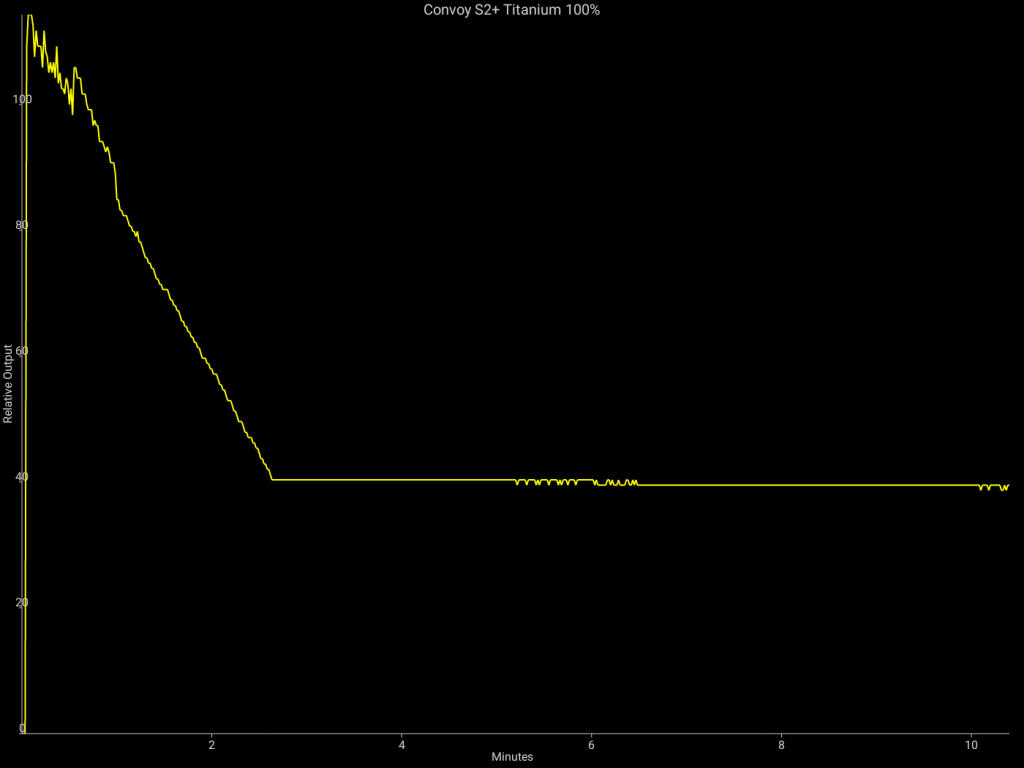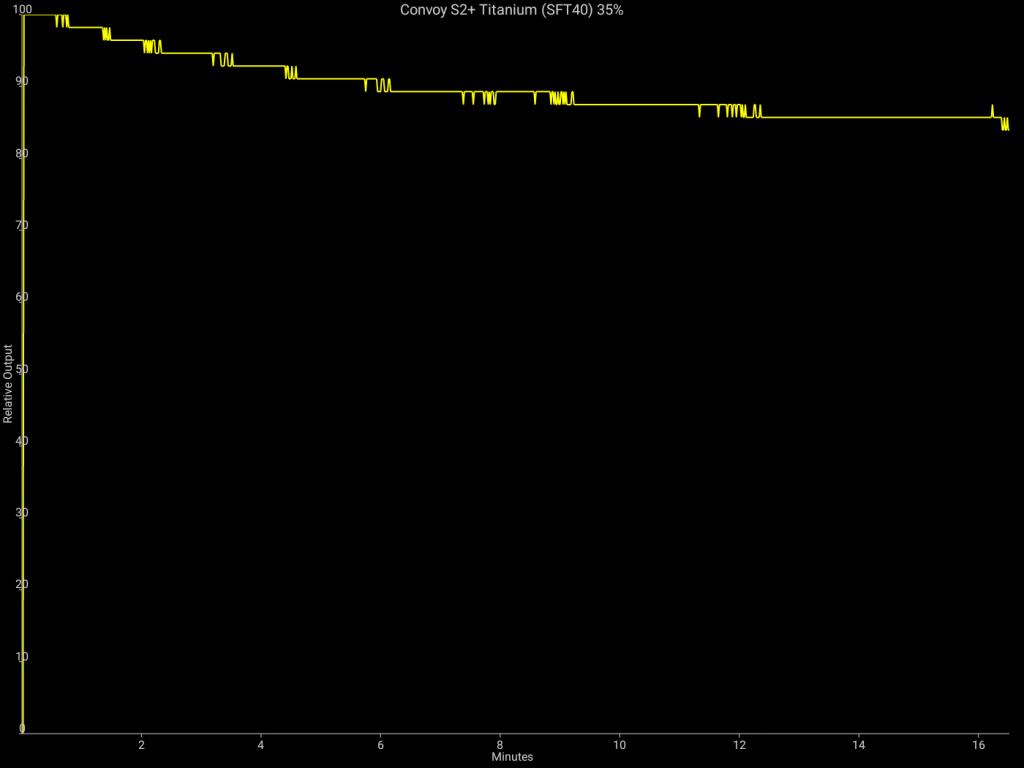 | | | | | |
| --- | --- | --- | --- | --- |
| Convoy S2+ Titanium (SFT40) | Measured with Opple Light Master Pro – figures based on switch on | | | |
| Mode | Candela @5m | Throw (metres) | CRI (Ra) | CCT (K) |
| 0.1% | 0 | 0 | No reading | No reading |
| 1% | 350 | 37 | 69.2 | 5275 |
| 10% | 4200 | 130 | 68 | 6046 |
| 35% | 12975 | 228 | 68.9 | 6330 |
| 100% | 28875 | 339.8529094 | 70.5 | 6701 |
Considerations
• Less heat dissipation. The copper pill helps.
• The head of the light gets very hot on high modes – the body is fine.
• Threads don't feel smooth, probably need more lube. But no need to worry about stripping threads – extremely durable.
• No onboard charging. You can buy one with and without the 18650 battery included.
Verdict
• This is one heck of a deal for a titanium flashlight, especially a reliable and high-quality one. If you're on the fence, don't be, it's my favorite S2+ in my collection and you have to see it in person!