Convoy S21E XHP50.3 HI: Best Value EDC Flashlight with Sustained High Output?
I picked up one of these from Convoy recently – it's the S21E with XHP50.3 HI. Running at 3A on high, this light produces 2000+ lumens with relatively little heat compared to other smaller emitters like the SST40/SFT40. I think this is one of the best bang-for-buck Convoy lights out there, especially if you don't mind the 21700 form factor. The links below are to the Convoy Official Store on AliExpress – the cheapest place you can get them and I can vouch for them in terms of reliability and reasonable delivery time (these are non-affiliate links).
Get the S21E (XHP50.3 HI): https://www.aliexpress.com/item/1005005494845595.html
Get the S21E (SST40/SFT40/519A):
https://www.aliexpress.com/item/1005004584640735.html
Please support my work and receive discounts by purchasing recommended products here (affiliate links below):
All Discount Codes (Master Spreadsheet):
https://docs.google.com/spreadsheets/d/15CgzoZD2X7lPhRpYQeR1tFws3DbI1Lmn4AUzIfOpzMo/edit?usp=sharing
My Amazon Store:
https://www.amazon.com/shop/watercolourmentor
Convoy S21E – XHP50.3 HI: Review
General thoughts after a week of usage/size comparison/practicality/interesting things
• I think this is hands down, one of the best value Convoy lights out there for a beginner or enthusiast. The value you get is incredible – all you need is to add a battery. This light is a great 21700 EDC if you don't mind the slight increase in diameter. It's roughly the same length as the S2+ but with the upgraded XHP50.3HI, you get a heck of an increase in output and throw… not to mention efficiency. It fits nicely in my pocket, though you can definitely feel the difference compared to an S2+. It also comes in a variety of different colors!
• Comparison with other lights
Overall Construction, LED, lens, bezel, and reflector
• The S21E has smooth anodizing, I got mine in green and the finish is flawless. I like the fine knurling. Machining is excellent with no imperfections. I'm always impressed with the level of quality Convoy manages to achieve at a lower price point. The light is operated via a side switch button – it's semi-transparent and requires a firm press to activate. The last thing you want is a mushy or easily pressed button, as it will turn on and burn a hole in your pocket.
• XHP 50.3HI – my favorite of this 50.3 series. This produces one of the nicest beams when paired with the OP reflector. Best of both worlds in terms of flood and throw. I like the added touch of the stainless steel bezel. It can be unscrewed like everything else on Convoy lights. Takes a 21700 cells.
UI – modes
click the button —— the flashlight is turned on with last brightness —— press the button, brightness ramping up —— release and press the button again, brightness ramping down
flashlight off, press the button —— moonlight mode 0.01A (0.2%) [This brightness will not be remembered]
flashlight on or off, 2-click the button —— turbo 100%
flashlight off,3-click the button —— strobe
flashlight off,4-click the button —— tactical mode, only 100%,4-click the button again to quit tactical mode.
flashlight off,5-click the button —— voltage detection (* means "flash" , *** pause * means 3.7V, )
flashlight off,6-click the button —— normal ramping mode switch to 4modes 1%-10%-40%-100%
flashlight off,10-click the button —— Lock mode, The flashlight will flash once under any operation, which means the flashlight is locked.10-click the button again to quit lock mode, Please note that this is the only way to unlock.
Performance – total output, beam profile, longevity, practicality
• Ceiling bounce test, CCT, CRI
• One of my favorite beams, even though I'm more of a fan of SMO reflectors. Nice blended hotspot and lots of spills. Practical beam. Can be used up close. Impressive runtime and heat management on higher modes (40/100%).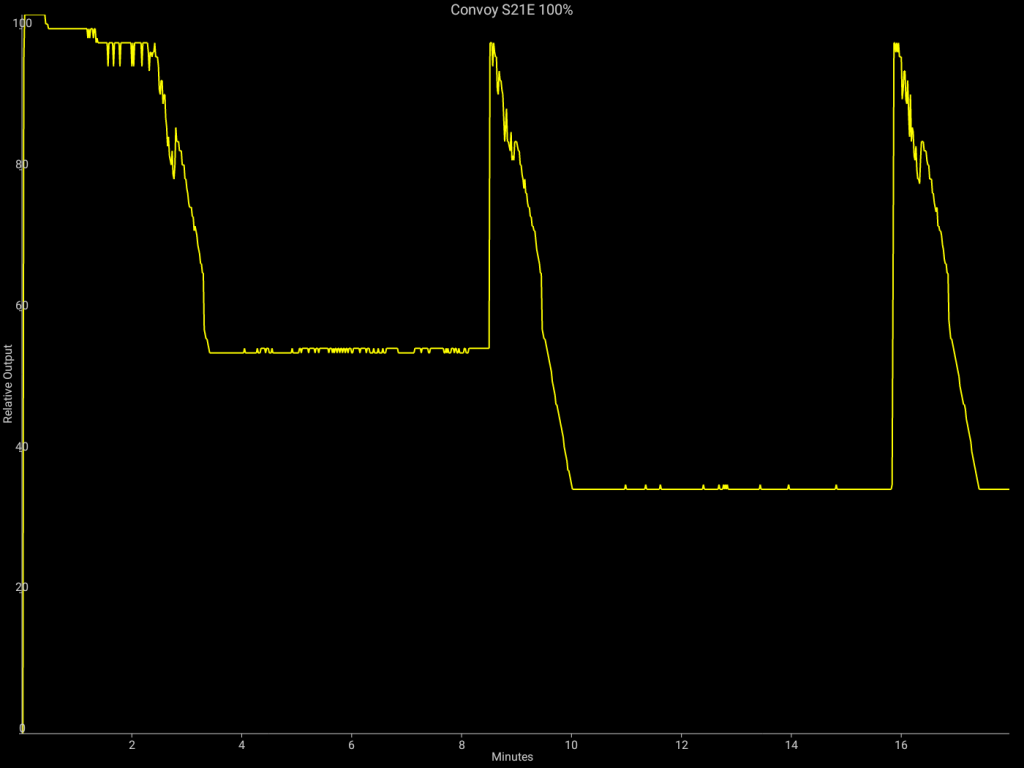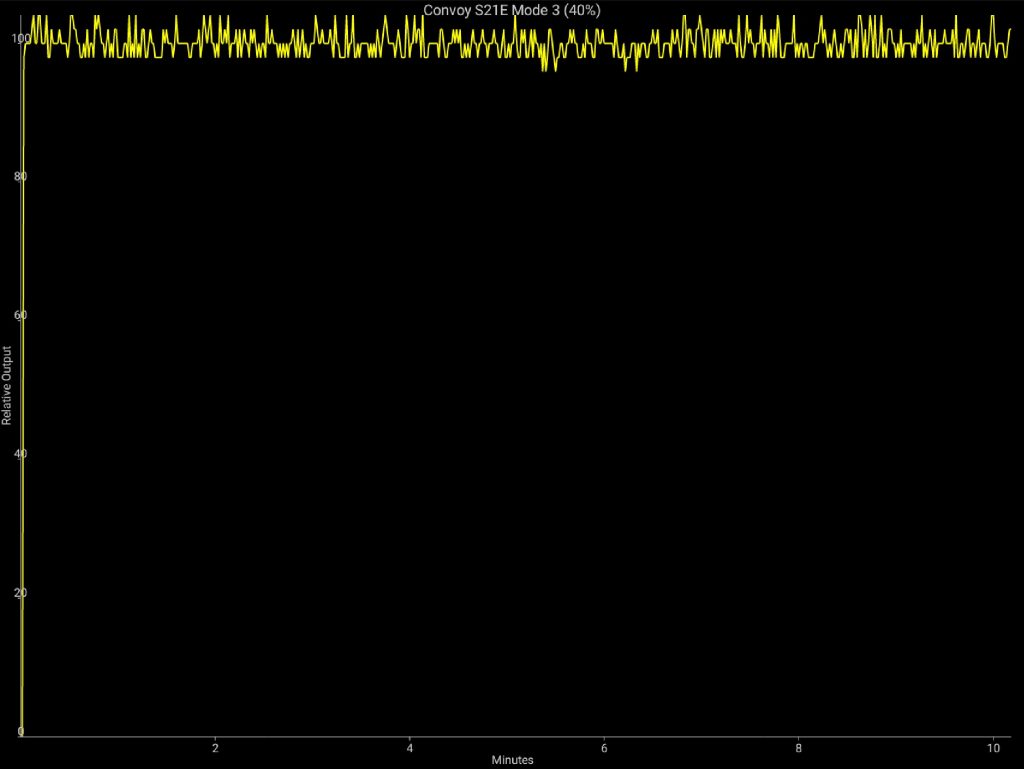 | | | | | |
| --- | --- | --- | --- | --- |
| Convoy S21E (XHP50.3 @ 3A) | Measured with Opple Light Master Pro – figures based on switch on | | | |
| Mode | Candela @5m | Throw (metres) | CRI (Ra) | CCT (K) |
| 1% | 175 | 26 | No reading | No reading |
| 10% | 1875 | 87 | 73 | 6369 |
| 40% | 5375 | 147 | 73 | 6752 |
| 100% | 15050 | 245 | 74 | 7097 |
Considerations
• A little larger in the pocket – but you get added runtime of 21700
• No battery included but you can select the option to include one for a few dollars. I recommend that. No USB-C charging cable is included. But those are everywhere now and you probably have one around the house to charge your phone.
• No tail switch. But the side switch feels sturdy.
Verdict
This is the perfect budget light for everyday, walking, around the house, EDC.