Tactical Flashlight with Proximity Sensor?
I just got the Olight Warrior 3S. It's surprisingly bright at 2300 lumens and with a minute of sustained output too. Some interesting features like the proximity sensor and magnetic charging that I've not seen on many other lights before. Beautifully designed and slightly chunkier than I expected. This is a pretty in-depth review, so stay tuned to find out more.
Get the Olight Warrior 3S here 👇
TBC
This light was sent to me as a sample by Olight Australia for the purposes of review. I have not held back on any issues with this light. All opinions are my own.
Olight Warrior 3S Review
General thoughts after a week of usage/size comparison/practicality/interesting things:
So I reviewed the Warrior 3 a while back, and recently I got myself the Warrior 3S, which is an updated version with a proximity sensor and some additional colors. If you're looking for a tactical flashlight with some unique features, make sure you watch on. There are some features in this light that I've seen in other flashlights before – that includes the proximity sensor that I mentioned before, the 8 small LEDs on the head that indicate battery life and mode, and magnetic charging. I'm a huge fan of compact tactical flashlights with the same diameter all the way through. They look elegant and are much more comfortable to pocket.
What you get in the box.
Comparisons with other lights
Overall Construction, LED, lens, bezel, and reflector
Sleek, and futuristic design. Well machined, and comes with smooth anodization. It's a little slippery if not for the knurling around the battery tube. It feels solid and high quality. It's a little chunkier than I thought it would be.
Olight does not specify what LED is in this light and the lens is frosted, however, I would guess that this is an SFT70 based on the faint outline and 2300-lumen output.
The proximity sensor is located on the outer edge of the TIR lens and surprisingly does not impact the quality or shape of the beam at all. The bezel has been improved in this model and is more pocket friendly – the one on the Warrior 3 was too sharp and I wasn't able to remove it. Anti-roll cutouts on the bezel. There is also a double-sided clip that can be installed at the front or back of the light.
The light can be operated from the side switch or tail switch. The brightness and battery indicators are amazing and over the top at the same time. Dual stage tail switch to access multiple functions. The tail stands and is magnetic – can only support weight when under an object like a car.
UI – modes
Tail switch – two configurations (switch by pressing fully, then press the side switch). Medium-Turbo or Turbo-Strobe (Momentary). Hold the button for momentary mode. Quick press to switch it on.
Side switch – Light can be operated independently with this button. Click once to switch on (memory mode – will remember LMH). Press and hold the side switch to switch between LMH.
Double-click to activate turbo. Double-click to switch back to the last mode you used.
Triple click for Strobe
Click and hold for moonlight. Keep holding for 2+ seconds to lock the light electronically. Click and hold again for 2+ seconds to unlock.
The proximity sensor activates around 15-18cm from an object, and only on high/turbo. You can disable it as soon as it activates by double-pressing the side switch. If the blockage is not removed, the light will turn off after 1 minute.
Performance – total output, beam profile, longevity, practicality
The ceiling bounce test, CCT, CRI.
Uniquely large, round beam with high candela and diffused spill. Spill is nowhere near as bright as a reflector flashlight, but it's still usable, though you'll need to have the light on the higher modes. The larger hotspot is a solid choice in this light, as TIR reflectors don't produce as much spill.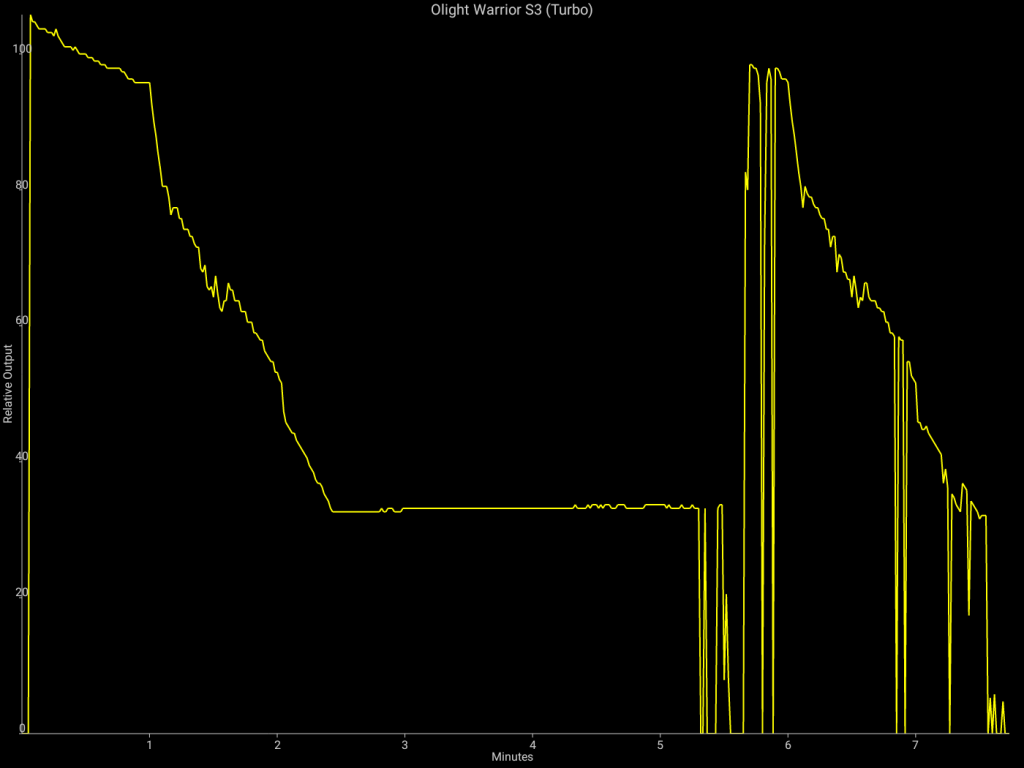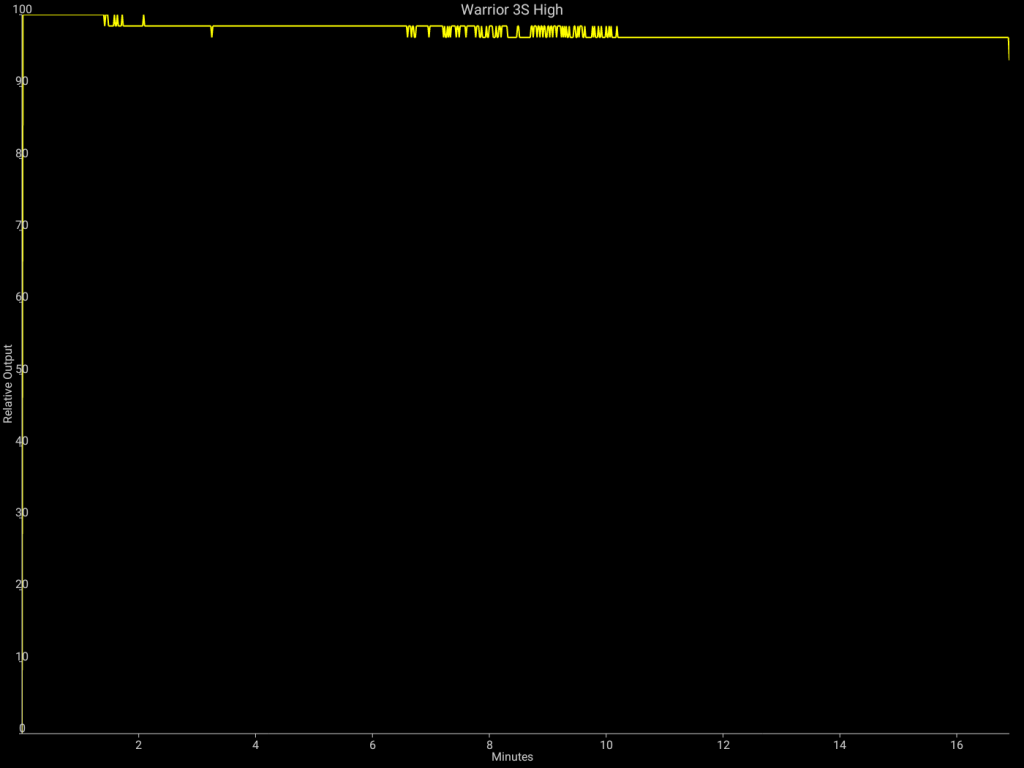 Considerations
Proprietary battery and magnetic charging. You can charge the battery externally if you can make contact with the positive terminal. Some people add solder onto their charger's metal contact for this reason. Proprietary batteries and charging mean that Olight can achieve consistency in light performance. As many of you know, there are various battery brands and grades that lead to drastically different performances.
Reactivation of turbo is only possible after the light cools down completely. This is better for the battery/electronics but a little annoying.
Proximity sensor – this can be a pro or con. For 99% of cases, this is probably a pro. Especially in terms of preventing burns. Leave the light on in your bag by accident? No problem. But in a self-defense situation, you wouldn't want the light to ramp down if someone came closer to it.
Verdict
The Warrior 3S is the tactical light for those who don't want to get bogged down in all the technicalities, and just want a flashlight with all the latest and most convenient technology that makes life easier. One thing I respect about Olight is that they make their lights incredibly easy to use, but still retain a high level of performance, build quality, and practicality.