Is the Wurkkos TS11 (SFT40) the Best BUDGET TIR Thrower? Find Out Now
Get the Wurkkos TS11 here (Affiliate Links):
US: https://amzn.to/3mQ44ar
Australia: https://amzn.to/3KVOhiG
Hey guys, in this video, I'm sharing my thoughts on the Wurkkos TS11 (SFT40) after using it for a week. I'll be discussing its size, practicality, and some interesting features that I discovered during my usage.
Overall, the Wurkkos TS11 is a unique and powerful TIR thrower with some great features. I love the new orange coating and the AUX lights that come with it. You can use the AUX light for reading maps or doing other tasks that require a little bit of light. Plus, the option to swap out the battery tube for a 18650 one gives you extra runtime and brightness. I used the tube from my FC11!
---
Please support my work and receive discounts by purchasing recommended products here (affiliate links below):
All Discount Codes (Master Spreadsheet):
https://docs.google.com/spreadsheets/d/15CgzoZD2X7lPhRpYQeR1tFws3DbI1Lmn4AUzIfOpzMo/edit?usp=sharing
My Amazon Store:
https://www.amazon.com/shop/watercolourmentor
Nextorch Flashlights:
https://www.nextorch.com/?ref=darrenyeo
10% Off Coupon Code: "DARRENYEO"
Wuben Flashlights:
https://www.wubenlight.com/?ref=darrenyeo
10% Off Coupon: "DARRENYEO"
Nealsgadgets:
https://www.nealsgadgets.com/?ref=darrenyeo
Coupon Code "DARRENYEO" for 15% off!
Wurkkos TS11 (SFT40) Short Review
General thoughts after a week of usage/size comparison/practicality/interesting things:
• This is a unique TIR thrower that rivals the Sofirn IF22A. If you program it to step down at 60 degrees Celsius, it will stay within 80-100% output for about 6 minutes – that's seriously impressive for such a little light. I'd recommend getting the extension tube though as it gets too hot to hold after a while. Easily pocketable but looks a little awkward as the head is larger than the body.
Overall Construction, LED, lens, bezel, and reflector
• Shiny, smooth anodizing. Not much to grip on, apart from the basic knurling on the body. It feels very light, yet solid. The SFT40 is housed in a TIR lens with protective AR glass. Smooth bezel, nothing out of the ordinary.
• I managed to unscrew the head, though it appeared to be glued on. I don't recommend opening it up if you don't want to void the warranty. Could be room for a YIDING 5050 mod?
• Onboard USB-C charging. Also comes with a 18350 cell. Can use a 18650 extension tube from many other Sofirn/Wurkkos lights and it works with a 18650.
• Comparison with other lights
UI – mode
• Anduril 2! Brief demonstration.
• Aux colors and modes.
Performance – total output, beam profile, longevity, practicality
• Rated at 2000 lumens. Strong, broad hotspot, with plenty of spill on high/turbo.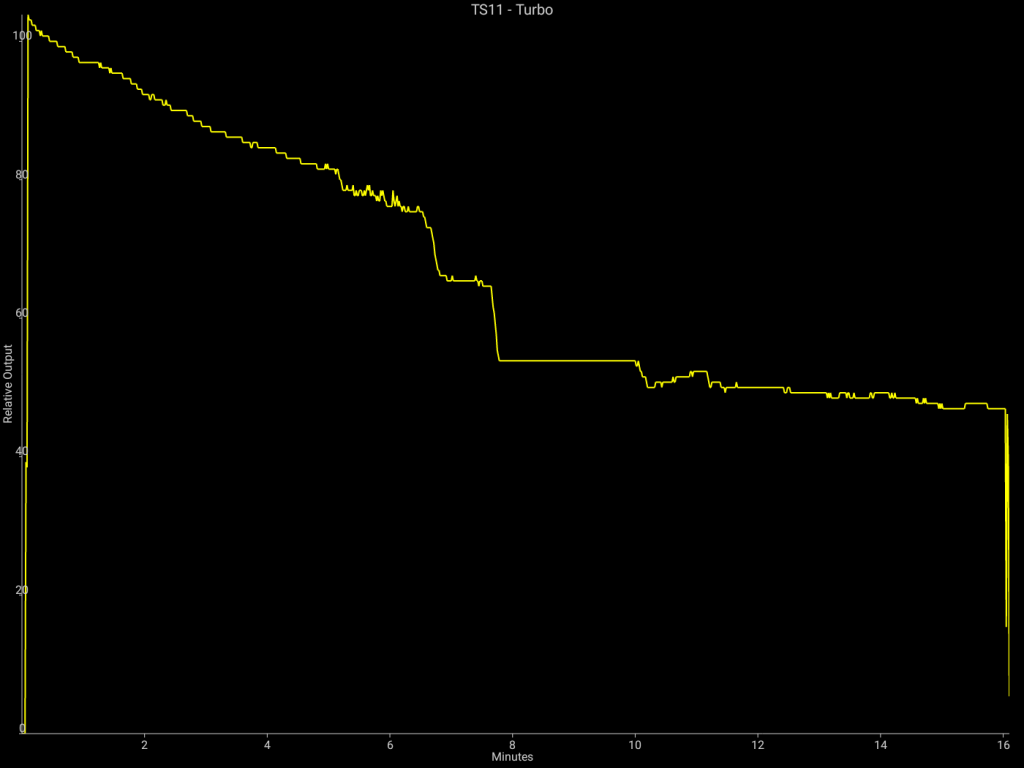 | | | | | |
| --- | --- | --- | --- | --- |
| Wurkkos TS11 | Measured with Opple Light Master Pro – figures based on switch on | | | |
| Mode | Candela @5m | Throw (metres) | CCT (K) | CRI (Ra) |
| High (Wurkkos 18350) | 33000 | 363.3180425 | 6261 | 68 |
| Turbo (Wurkkos 18350) | 84750 | 582.2370651 | 6400 | 69.5 |
| High (Samsung 30Q 18650) | 40100 | 400.4996879 | 6367 | 69.5 |
| High (Samsung 30Q 18650) | 109900 | 663.0233782 | 6667 | 70.7 |
Considerations
• Low aux mode is too low! Can barely see it in the dark.
• Anduril – may not be everyone's preference.
• Not much spill on lower modes
Verdict
A unique TIR thrower flashlight from Wurkkos – bright and powerful for its size. The new orange coating is a refreshing change, and I also like that it has AUX lights in the head as well as the switch. This means you can use the AUX light for reading maps, and general tasks that require a lumen or so of light. I also like that you can swap out the battery tube for a 18650 one and get extra run time/brightness. I've just used the tube from my FC11.