Convoy S21F Review: Best Budget Flashlight with Tint-Shifting
In this video, I share my thoughts and experiences with the Convoy S21F (4x519a) flashlight after a week of use. I was impressed by its tint-shifting abilities and compact size, and by the construction quality and design. The USB C charging and quad TIR lens were standout features, and the beam profile was perfect for walking at night. I also compared it to other lights and demonstrated the UI modes. While the smooth ramping was slow, the stepped ramping made up for it. Overall, the Convoy S21F offers modern features at an affordable price, making it a great choice for indoor and outdoor use.
Get the Convoy S21F here: https://www.aliexpress.com/item/1005005212807493.html
---
Please support my work and receive discounts by purchasing recommended products here (affiliate links below):
All Discount Codes (Master Spreadsheet):
https://docs.google.com/spreadsheets/d/15CgzoZD2X7lPhRpYQeR1tFws3DbI1Lmn4AUzIfOpzMo/edit?usp=sharing
My Amazon Store:
https://www.amazon.com/shop/watercolourmentor
Nextorch Flashlights:
https://www.nextorch.com/?ref=darrenyeo
10% Off Coupon Code: "DARRENYEO"
Wuben Flashlights:
https://www.wubenlight.com/?ref=darrenyeo
10% Off Coupon: "DARRENYEO"
Nealsgadgets:
https://www.nealsgadgets.com/?ref=darrenyeo
Coupon Code "DARRENYEO" for 15% off!
---
Convoy S21F (4x519a) Video Transcript
General thoughts after a week of usage/size comparison/practicality/interesting things:
• This is the first light I've owned that has tint-shifting abilities. I didn't even know how it worked. Turns out there are 2 cool and 2 warm LEDs in the head. The driver switches between them.
• It's pretty small! Looked a lot larger in the photos but this is definitely in EDC territory. The construction also reminds me of the M21F. More about that later.
Overall Construction, LED, lens, bezel, and reflector
• Convoy has stepped things up a notch or two in the construction of this light. The machining is noticeably on point with smooth edges and a more intricate, aesthetically pleasing design.
• The tail cap and the button. Nice LED indicator and colored ring. The button also has a firmness to it, which gives me the confidence to carry it in my pocket.
• Quad TIR lens with AR glass lens with O-ring in front. This is a huge plus for me. Most lights with TIR optics are easily scratched which can degrade the beam quality over time. The TIR lens looks similar to the ones used on those downlights.
• Easy to disassemble, no special tools required.
• USB C charging!
• I got mine with a 21700 Molicel P42a – a premium battery that has a maximum discharge rate of 45A. Probably not required for this light.
• Comparison with other lights.
UI – modes
• UI demonstration
Performance – total output, beam profile, longevity, practicality
• CCT, CRT, and Ceiling bounce test
• The quad TIR lens creates a wide, floody beam. A good walking light.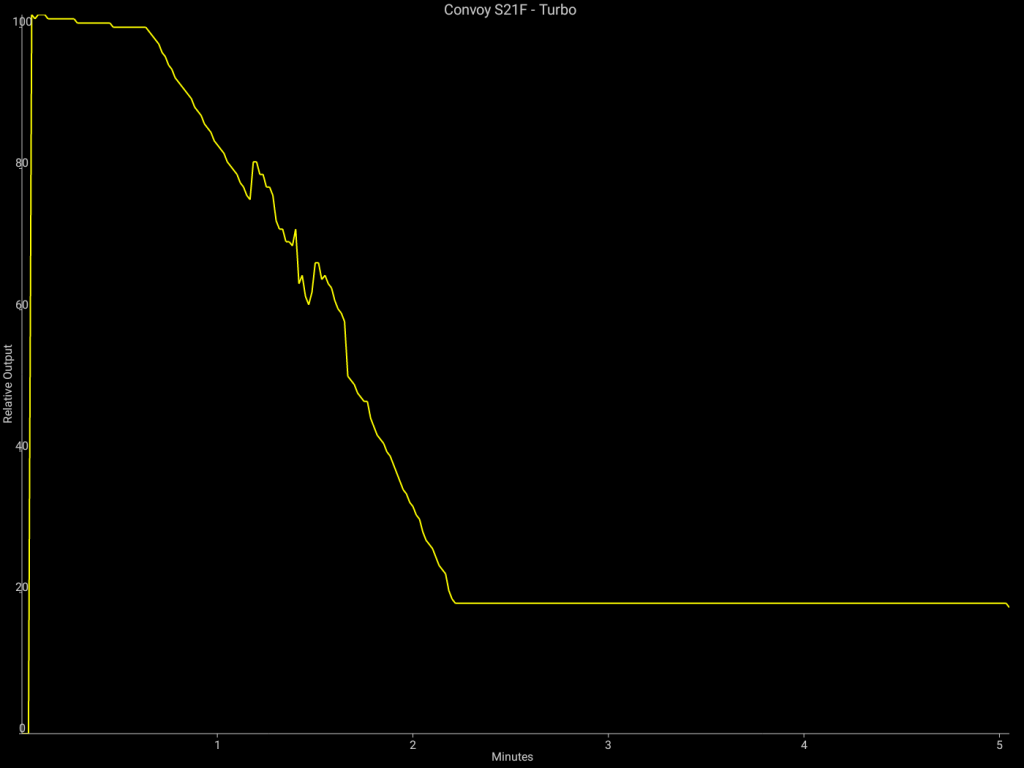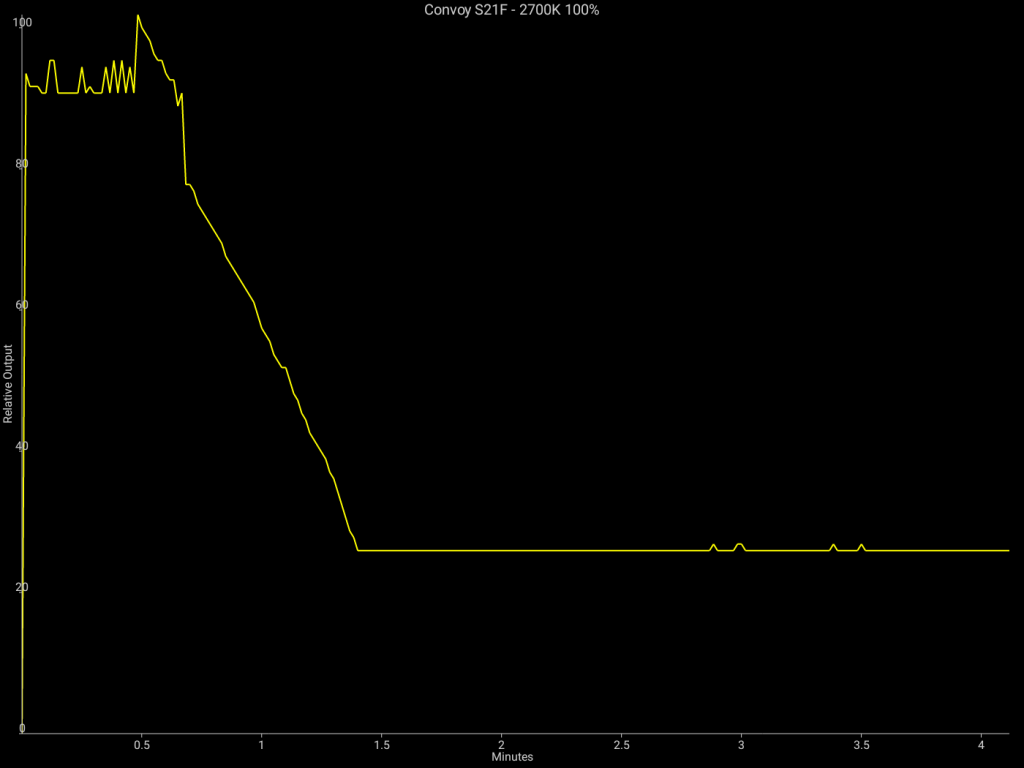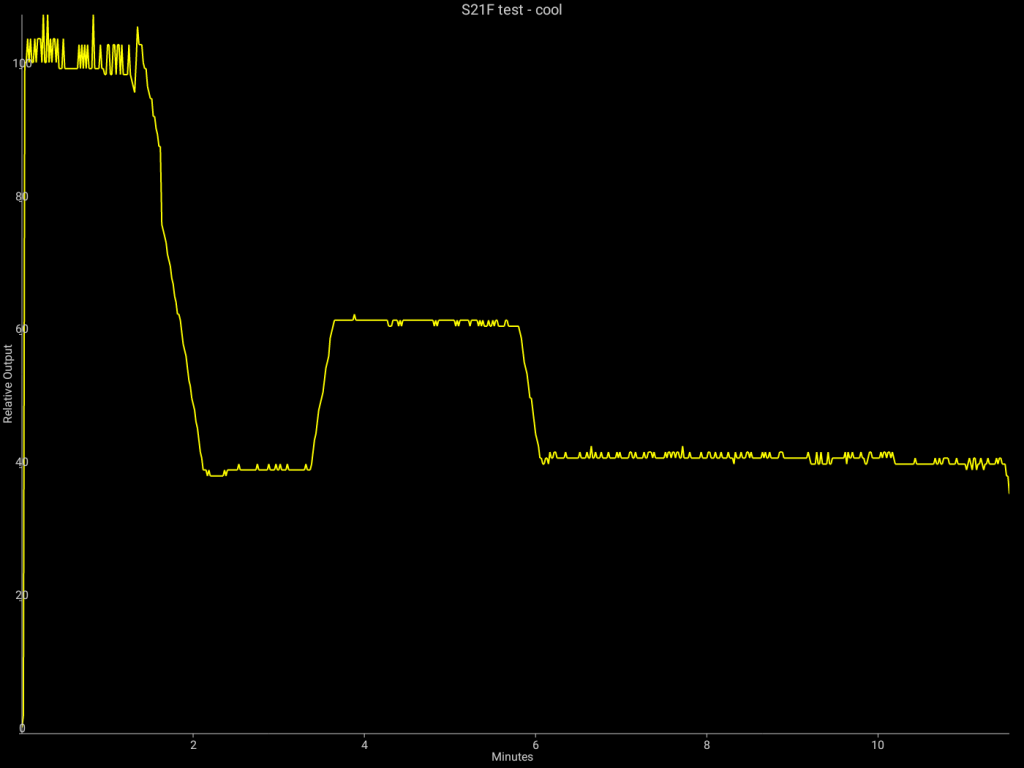 | | | | | |
| --- | --- | --- | --- | --- |
| Convoy S21F (4 X 519A) | Measured with Opple Light Master Pro – figures based on switch on | | | |
| Mode | Candela @5m | Throw (metres) | CCT (K) | CRI (Ra) |
| 100% (2 X 2700K) | 1575 | 79.37253933 | 2626 | 98.1 |
| 100% (2 X 5700K) | 1925 | 87.74964387 | 5424 | 97.4 |
| 100% (All LEDs on – 3715K) | 2800 | 105.8300524 | 3715 | 96.9 |
Considerations
• Smooth ramping is extremely slow. Fortunately, you can switch to stepped ramping.
Verdict
I've been very impressed with the latest addition to Convoy's range – it's great to see modern features like USB C charging and tint shifting in a very affordable flashlight. Here you have a light that you can use around the house at night on 2700K and outdoors for maximum visibility. The value for money with Convoy lights is second to none.