Fenix PD35 V3.0: The Best SFT40 Tactical Flashlight?
In this video, I review the Fenix PD35 V3.0 – this is hands down one of my favorite tactical EDC flashlights in my collection. Small enough to comfortably pocket, the build quality and finish are second to none, and it has the perfect beam pattern, a combination of a large focused hot spot and wide angled spill. I found it amazing that it could sustain turbo mode for 2 minutes. There are many SFT40 models out there… but if you're looking for a tactical flashlight that won't let you down, make sure you watch this video!
Get the Fenix PD35 V3.0 👇
🔦 Liteshop Australia: https://fenixlight.com.au/product/fenix-pd35-v3-1700-lumens-led-torch?ref=darrenyeo
🔦Fenix Amazon AU: https://amzn.to/3oaTiME
🔦Amazon US: https://amzn.to/3Mu8IFb
If you're in Australia, check out 👇 https://www.liteshop.com.au/?ref=darrenyeo – they have the largest range of flashlights I've seen over here at reasonable prices (link for tracking only, not an affiliate link).
This light was sent to me by Liteshop for review. I was not paid to make this video. All opinions are my own.
---
Please support my work and receive discounts by purchasing recommended products here (affiliate links below):
All Discount Codes (Master Spreadsheet):
https://docs.google.com/spreadsheets/d/15CgzoZD2X7lPhRpYQeR1tFws3DbI1Lmn4AUzIfOpzMo/edit?usp=sharing
Fenix PD35 V3.0: Review
General thoughts after a week of usage/size comparison/practicality/interesting things:
• So there are lots of these SFT40 tactical lights out there, and I finally got hold of the Fenix PD35 – it's a beautiful-looking flashlight that is roughly the size of the Convoy S2+ but a little longer due to the tactical tail switch. This light has been in production for 10 years, with various improvements and LED upgrades along the way. This is the latest 3.0 version. The PD35 costs several times the price of an S2+ or Wurkkos FC12 with the same emitter but you're also getting a very high-quality and reliable light that will perform to factory specifications.
Overall Construction, LED, lens, bezel, and reflector
• Fenix goes for a more conservative and classic design for their flashlights – similar to its older brother the PD36R Pro, the PD35 utilizes some subtle knurling on the battery tube, and some intricate detailing around the head/bezel and tailcap.
• I like how the bezel is almost the same diameter as the battery tube, it makes the light look sleek, feels more balanced, and also takes up less space in your pocket. The bezel is also slightly crenulated but there are no sharp or pointy edges – they look more like general cutouts. The rubberized tail switch is large and easy to locate. I really like the aluminum side switch. It's machined beautifully with a circular pattern and is accented with a brass ring. The switch also acts as a battery indicator (LED in the center).
• SFT40 paired with a shallow SMO reflector. Good choice for this host, either that or an Osram W2. AR glass lens. The bezel is only 25mm – this is a truly pocketable tactical flashlight. It feels more comfortable in my pocket than the Nitecore MH12SE with the same emitter.
• Accepts 18650 cells (non-proprietary flat tops work), as well as 16340 cells (3.2V) and CR123 primaries. No onboard charging.
UI – modes
• Dual switches – one on tailcap, one on body
• Eco, low, med, high, turbo
• Strobe
• Mode memory, no strobe memory
Performance – total output, beam profile, longevity, practicality
• CCT, CRI, ceiling bounce test
• The PD35 V3.0 is rated at 1700 lumens and produces an intense hotspot, combined with plenty of spill. I like how the hotspot is not as small as in my Nitecore MH12SE – it's larger and more practical for illuminating a larger area, but still throws over 350m.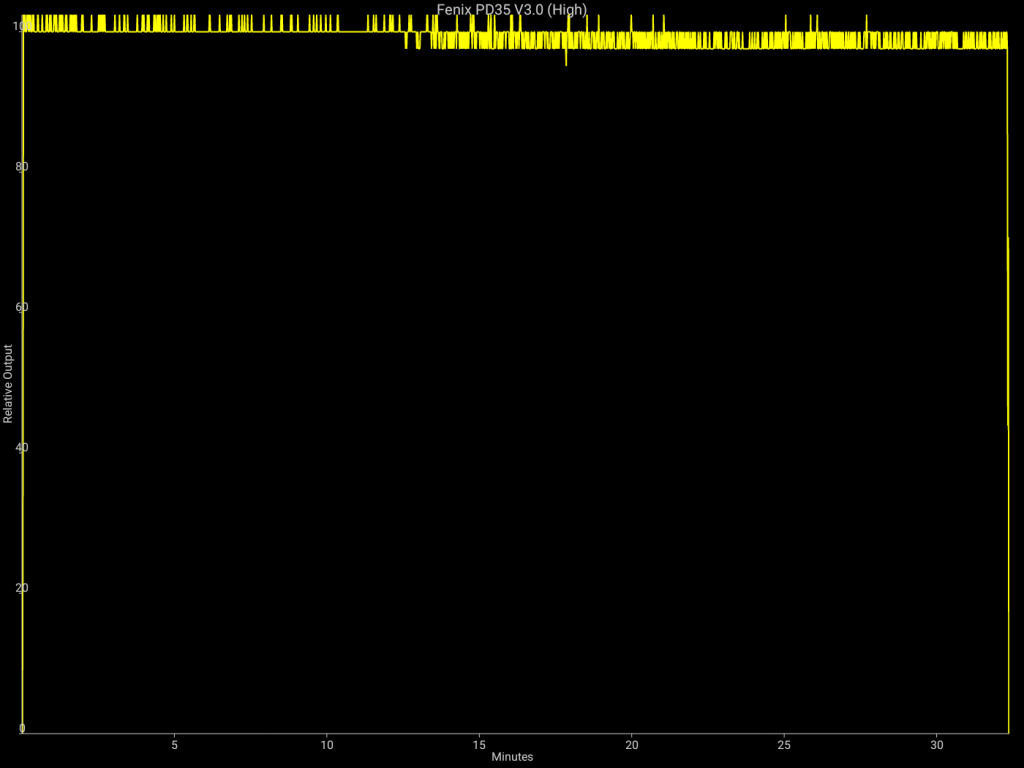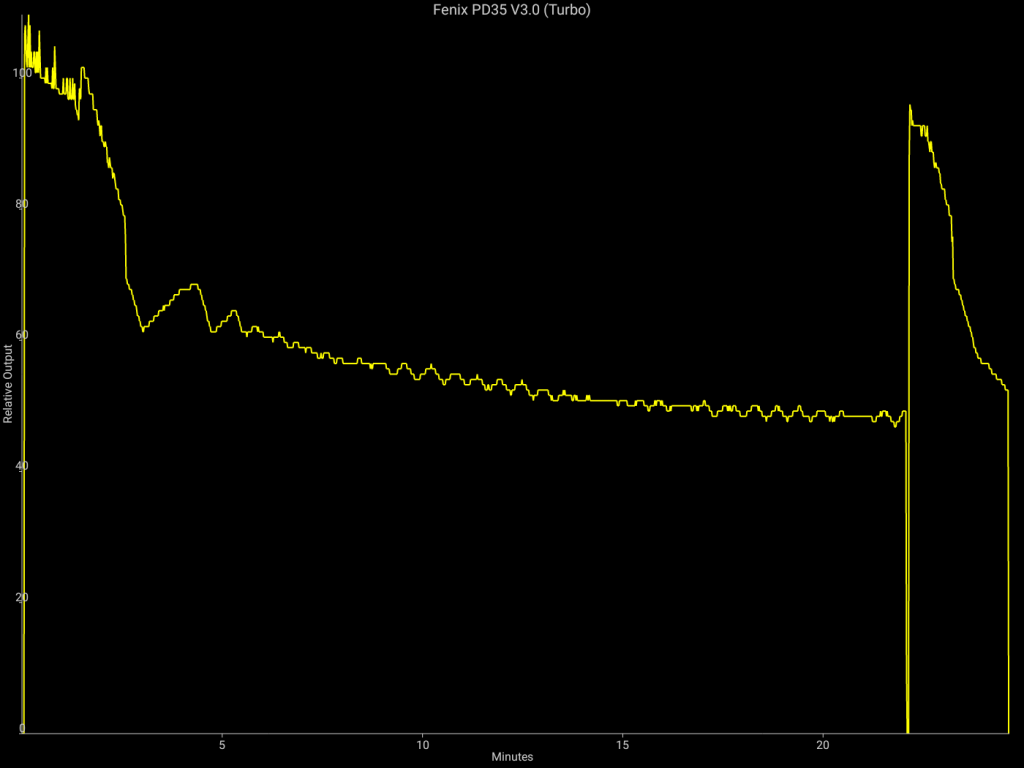 | | | | | |
| --- | --- | --- | --- | --- |
| Fenix PD35 V3.0 (SFT40) | Measured with Opple Light Master Pro – figures based on switch on | | | |
| Mode | Candela @5m | Throw (metres) | CRI (Ra) | CCT (K) |
| Eco | 100 | 20 | No reading | No reading |
| Low | 1025 | 64.03124237 | 67 | 5965 |
| Med | 3125 | 111.8033989 | 64.8 | 6082 |
| High | 11825 | 217.4856317 | 66.6 | 6102 |
| Turbo | 33225 | 364.5545227 | 69 | 6520 |
Considerations
• No onboard charging, but the light has an included 2600mAh 18650 cell. It is charged via micro USB. Would have been ideal to have a 3000+ mAh cell and USB-C charging.
• Gets hot in turbo. It will step down a bit later, but you can always switch it back to high mode. I personally like the extended high output in turbo, as I notice many tactical light step down around either immediately or at the 30-second mark.
Verdict
• Overall I'm impressed with the PD35 V3 – it's a truly pocketable tactical flashlight that has a nice balance of throw and flood. The sustained lumens on turbo is quite impressive given the size of the light. The quality and attention to detail are what stood out for me in this light, everything feels so well-machined and fits together perfectly.