Fenix PD36R Pro: The Most Reliable SFT70 Tactical Flashlight?
In this video, I review the Fenix PD36R Pro. This is a high-performance SFT70 flashlight that produces 2800 lumens. It accomplishes this with a relatively small body/bezel diameter of 25mm! Fenix has some of the quality control standards in the industry, and the PD36R Pro is an example of this, with its flawless build quality and finish. If you're looking for a high-powered… But reliable tactical flashlight, then make sure you check out this video! Affiliate links are below.
Get the Fenix PD36R Pro 👇
🔦 Liteshop Australia:
https://www.liteshop.com.au/content/fenix-pd36r-pro-compact-2800-lumen-usb-c-rechargeable-led-torch/?ref=DARRENYEO
🔦Fenix Amazon AU: https://amzn.to/3oaTiME
If you're in Australia, check out 👇 https://www.liteshop.com.au/?ref=darrenyeo – they have the largest range of flashlights at competitive prices (link for tracking only, not an affiliate link).
This light was sent to me by Liteshop for review. I was not paid to make this video. All opinions are my own.
---
Please support my work and receive discounts by purchasing recommended products here (affiliate links below):
All Discount Codes (Master Spreadsheet):
https://docs.google.com/spreadsheets/d/15CgzoZD2X7lPhRpYQeR1tFws3DbI1Lmn4AUzIfOpzMo/edit?usp=sharing
Fenix PD36R Pro: Review
General thoughts after a week of usage/size comparison/practicality/interesting things:
• Most SFT70 lights tend to be chunky around the head, but this one has a 25.7mm bezel which makes it portable, and easy to carry in your pocket. 30mm is around the limit I'll tolerate when pocketing a light – and that's pushing it. The PD36R Pro has an elegant and sleek design, and the machining is perfect… it feels like I'm holding a professional tool rather than a flashlight. It's perfect if you're looking for a compact duty, self-defense, or high-performance light. Fenix also includes a 5-year warranty, with a limited lifetime warranty (charge for replacement parts).
Overall Construction, LED/reflector, lens, bezel
• Fenix opts for a more conservative and classic design, and with the PD36R Pro, there's some subtle knurling on the battery tube and intricate cutouts on the tailcap. You can only unscrew the tailcap, which has the smoothest square-cut threads I've seen on a flashlight. HAIII anodizing and 6061-T6 aluminum for maximum durability. The anodizing is slightly glossy and smooth – the knurling helps with grip. IP68 water resistance with a 1.5m drop test rating.
• SFT70 – quite a high-powered LED for a smaller host like this one. Smooth reflector. Perfectly centered. AR glass lens.
• I like that the head is the same diameter as the battery tube, it looks sleek, feels well-balanced, and makes it easy to carry around. There is a USB-C charging port on the side of the head, as well as a battery indicator light. Fenix state that the charging port has an 'inner waterproofing design' which is a relief, as the rubber port has a thinner and low profile design. There are some interesting but neat-looking cutouts to help with heat dissipation.
• The bezel is slightly crenulated – allowing light to pass through, but not sharp – so it should make it past airport security.
• Powered by a protected 21700 cell. Non-proprietary cells work but only longer protected ones. I tried a flat-top Samsung 30T and it couldn't make contact with the tail spring.
UI – modes
• Dual switches
• Eco, low, med, high, turbo
• Strobe
Performance – total output, beam profile, longevity, practicality
• CCT, CRI, ceiling bounce test
• The PD36R pro is rated at 2800 lumens and produces a large, bright hotspot, combined with lots of spill. Best of both worlds.
• Fenix use what they call 'intelligent overheat protection' in the PD36R Pro, which protects against high surface temperatures exceeding 60 degrees Celsius. The light was warm to the touch after testing in all conditions, never hot.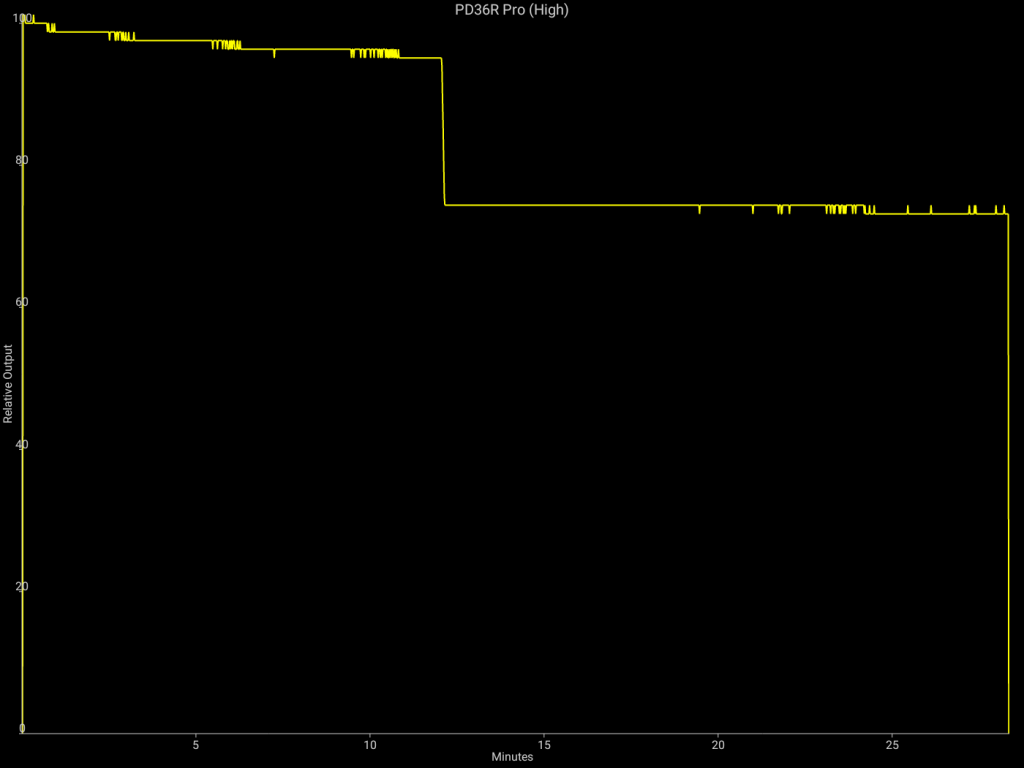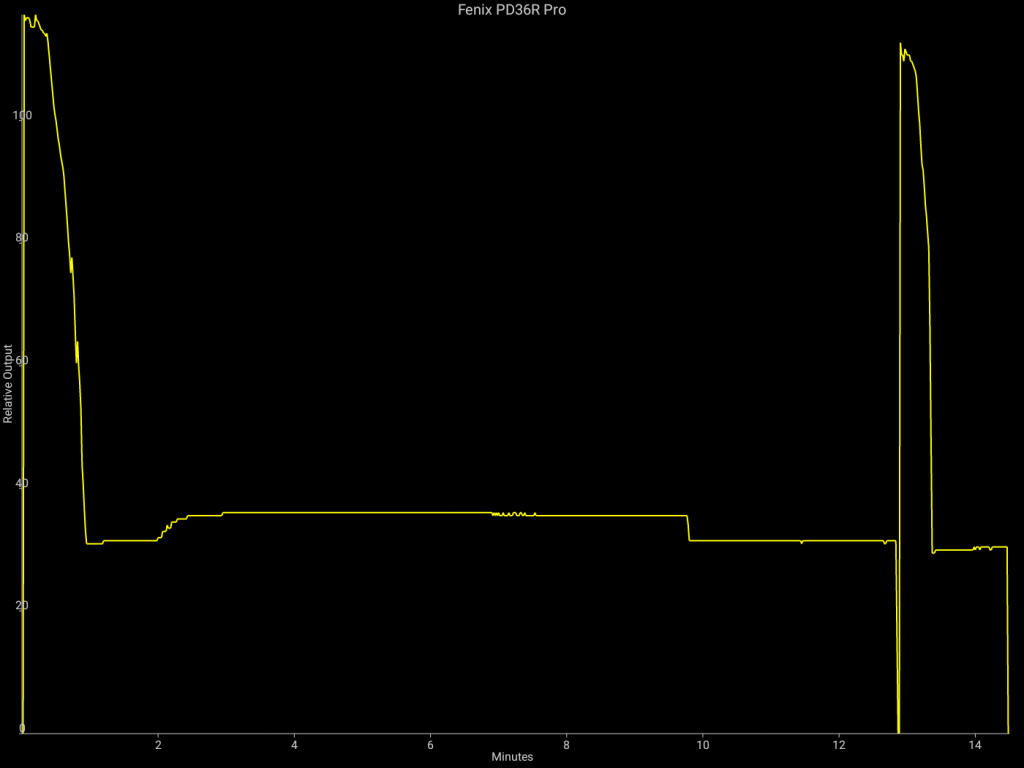 | | | | | |
| --- | --- | --- | --- | --- |
| Fenix PD36R Pro (SFT70) | Measured with Opple Light Master Pro – figures based on switch on | | | |
| Mode | Candela @5m | Throw (metres) | CRI (Ra) | CCT (K) |
| Eco | 450 | 42.42640687 | 67.8 | 5872 |
| Low | 2075 | 91.10433579 | 66.7 | 5840 |
| Med | 4900 | 140 | 66.4 | 5922 |
| High | 14100 | 237.4868417 | 67.4 | 6100 |
| Turbo | 38775 | 393.8273734 | 69.6 | 6547 |
Considerations
• Steps down quickly after 30 seconds on turbo. Expected due to the SFT70 – it creates a lot of heat.
• Does not take CR123 or other primary cells. A battery cartridge would have been nice. The 5000 mAh cell should get you through most tasks though, but might be good to carry a spare.
Verdict
• Overall I'm impressed with the quality and feel of this light. It's a complete package and it's difficult to explain unless you hold one for yourself. If you're looking for a high-quality and high-output tactical flashlight that's still pocketable, this could be the light for you.