In this video, I review the Nextorch K40, a keychain light with a few hidden surprises! What do you think of keychain lights like these? Watch the video to find out more. 300 lumens may not seem like much, but for a light of this size, it's impressive and adequate for use around the house, finding objects in the dark, and even walking through a dark park to see where you're walking.
I was surprised to see an included 700-lumen strobe mode which is an excellent self-defense feature and good at attracting attention. I liked the addition of the auxiliary UV, red, and flashing red/blue lights. They're not commonly found on lights of this size and price range and can be useful tools to identify fake documents and provide a low-powered light that doesn't ruin your night vision.
Get the Nextorch K40 here: https://www.nextorch.com/collections/outdoor/products/k40-multi-light-source-keychain-flashlight
This light was provided as a sample by Nextorch. I was not paid to make this video. All opinions are my own.
Nextorch Official Website: @nextorchvideo6256
Please support my work by purchasing recommended products here (affiliate links): https://www.amazon.com/shop/watercolourmentor
https://www.nealsgadgets.com/?ref=darrenyeoCoupon (Code "DARRENYEO" for 15% off!)
——————————————————
Nextorch K40 Short review and overall impressions
General thoughts after a week of usage/size comparison/practicality:
• Bright for its size, budget-friendly keychain light that has some unique features you don't usually see. The rigid pocket clip is also handy if you want to carry it around without the keychain.
LED, lens, bezel, and reflector
• Not sure what the LED is, but it looks around the same size as a Nichia 519a and is capable of 300 lumens on high and 700 on strobe. Aluminum bezel – it actually works as a heatsink. TIR lens.
UI – modes
• Demonstration
• Torch and aux lights can be activated at the same time – great for attracting attention
• 1-step strobe
Performance – total output, beam profile, longevity, practicality
• Ceiling bounce test, CCT/CRI
• Bright, floody with a distinct hotspot in the center due to the TIR lens.
• 1-hour runtime on high, 9 hours runtime on low.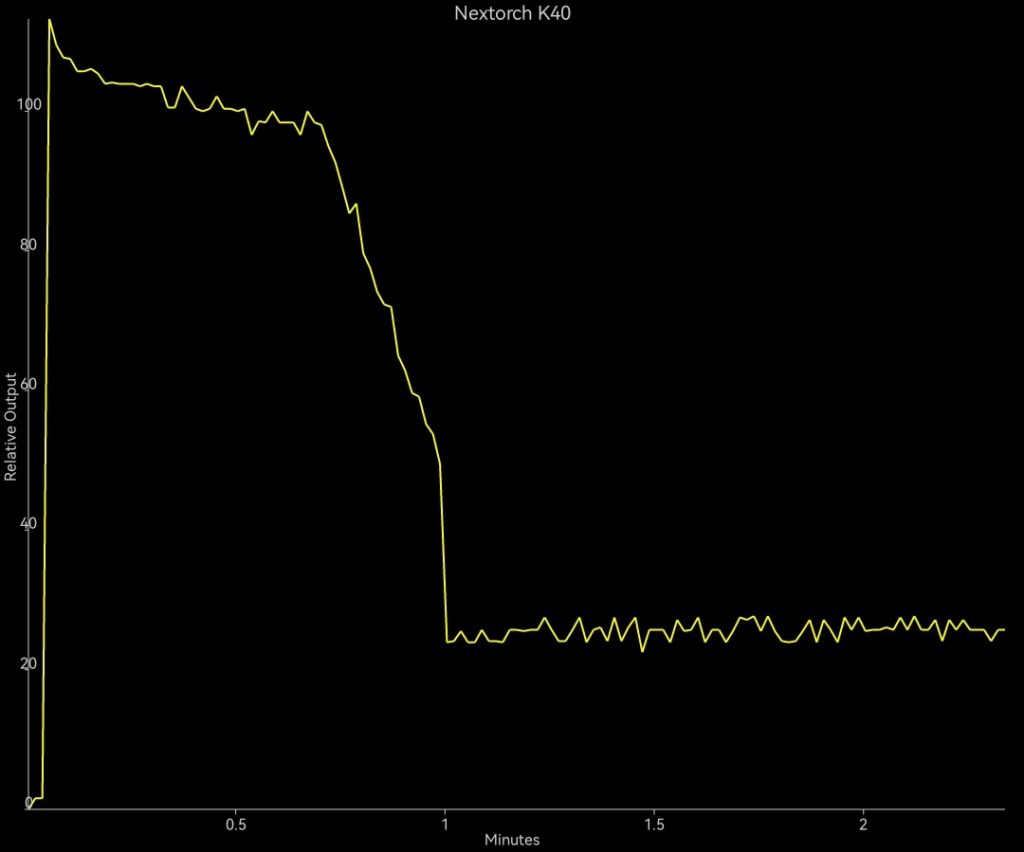 Considerations
• Starts on 300 lumens which is pretty high for close-up usage, but you can click through quickly to the lower modes. I prefer a UI that starts on high for lights I bring outdoors. In case it needs to be activated quickly on full blast.
• Polycarbonate body. Looks cool as you can see the inner components and it is extremely light, but an aluminum shell would be more durable and a better heatsink. Trade-off.
• Built-in battery. The standard for lights of this size.
Verdict
• Great value EDC/keychain light that also has some survival/emergency self-defense/safety strobe features. That seals the deal for me in a keychain flashlight. Often the best light is the one that you have on you. With something like this attached to your keys, you'll barely notice it and be prepared for a variety of situations.