Wuben L1 Introduction
I review the newly released Wuben L1. This is a unique flashlight with a rotating head and two different LEDs for throw and flood. I've never seen a flashlight with this kind of design before – it's versatile and would make a great multi-purpose flashlight. Watch my video to find out more.
Get the Wuben L1 👇
https://www.wubenlight.com/products/l1-dual-light-sources-flashlight?ref=darrenyeo&variant=44085176697072 (Voucher Code 'DARRENYEO' for 10% off!)
Amazon 👇
https://amzn.to/45lZQbp
---
Wuben L1 Review:
General thoughts after a week of usage/size comparison/practicality/interesting things:
• So this is Wuben's brand new flashlight – the L1, and it reminds me a little of the X3 Prototype I reviewed awhile back with the rotatable head. This is something unique that you don't see on most flashlights out there and allows you to select between flood and throw beam. It's the best of both worlds!
• Comparisons with C2, L50.
Overall Construction, LED, lens, bezel, and reflector:
• Good quality machining with smooth black anodizing. I like the look of the light, it has some interesting cutouts and seems to draw inspiration from Wuben's angular X-0 with the head. Anodizing is glossy and a bit slippery.
• TIR lens for the flood beam – mine came with a high CRI Nichia 519A. The SST40 comes with a smooth reflector for maximum throw. Rotating the head is simple and smooth. I like that you can use both LEDs at the same time too – so you can have the flood beam facing the ground and throw beam ahead of you. Some small cutouts in the head for heatsinking.
• There are two buttons on the back that activate each LED. Comes with a high-capacity 21700 cell with onboard charging + a holster/charging cable.
• There is also a very strong magnet in the tail cap that you can remove if you want. I like the grippy knurling on the tail cap – wonder why they didn't use it for the entire battery tube.
UI – modes:
• Demonstration + strobe/SOS.
Performance – total output, beam profile, longevity, practicality:
• CRI, CCT, Ceiling bounce test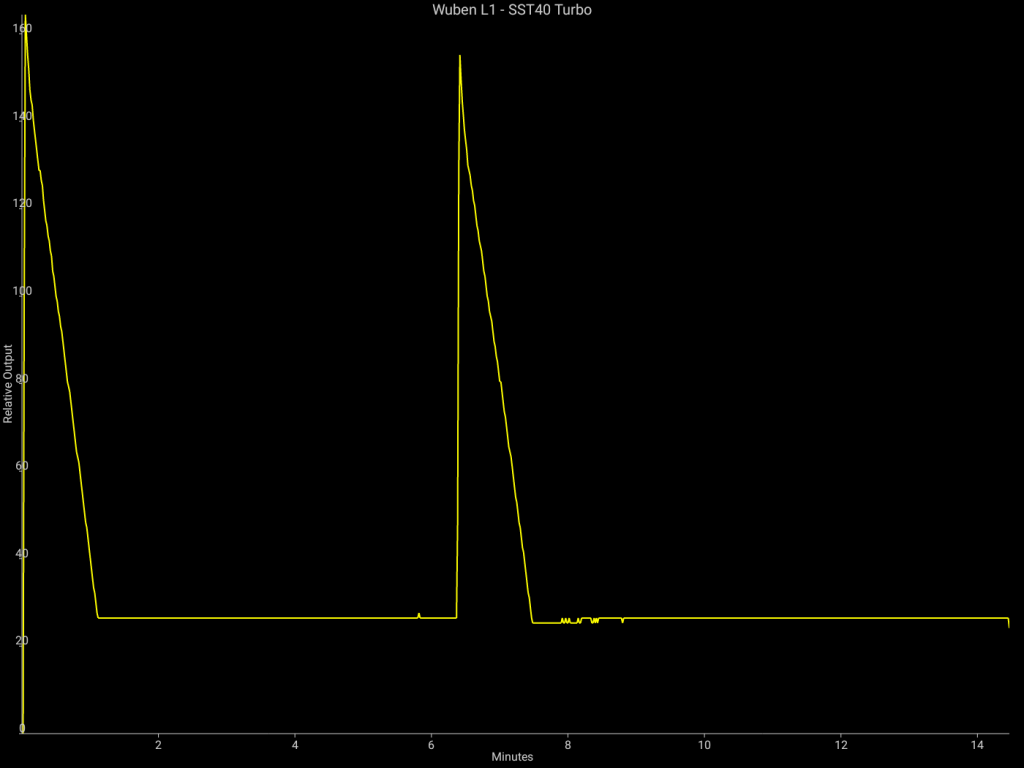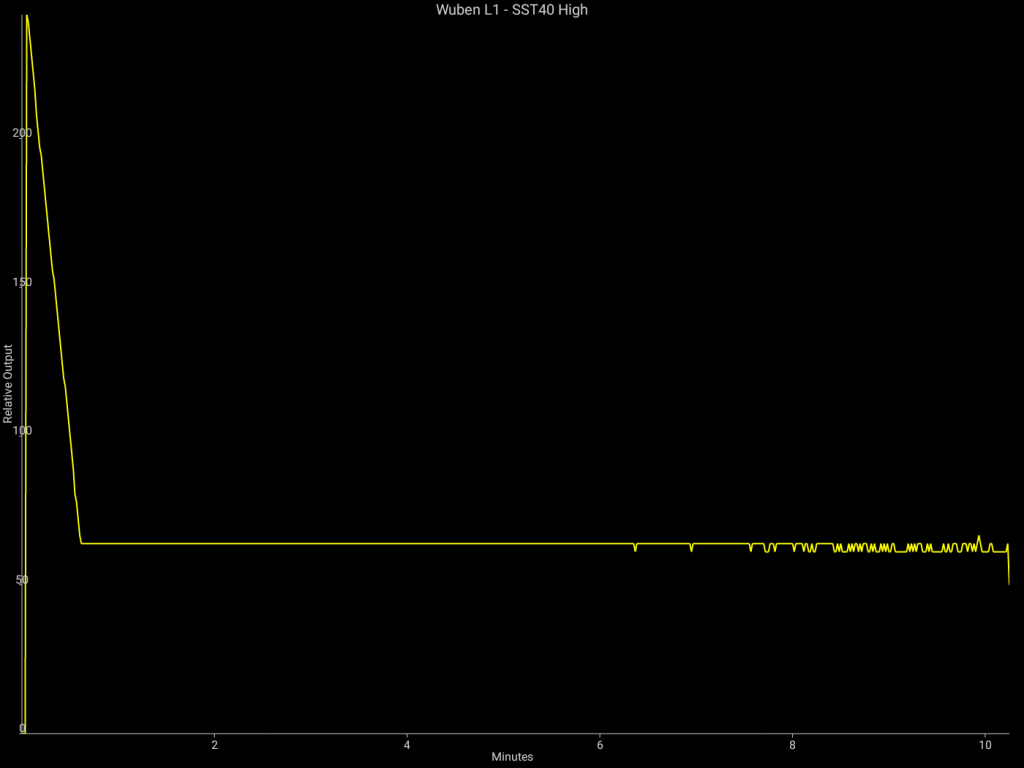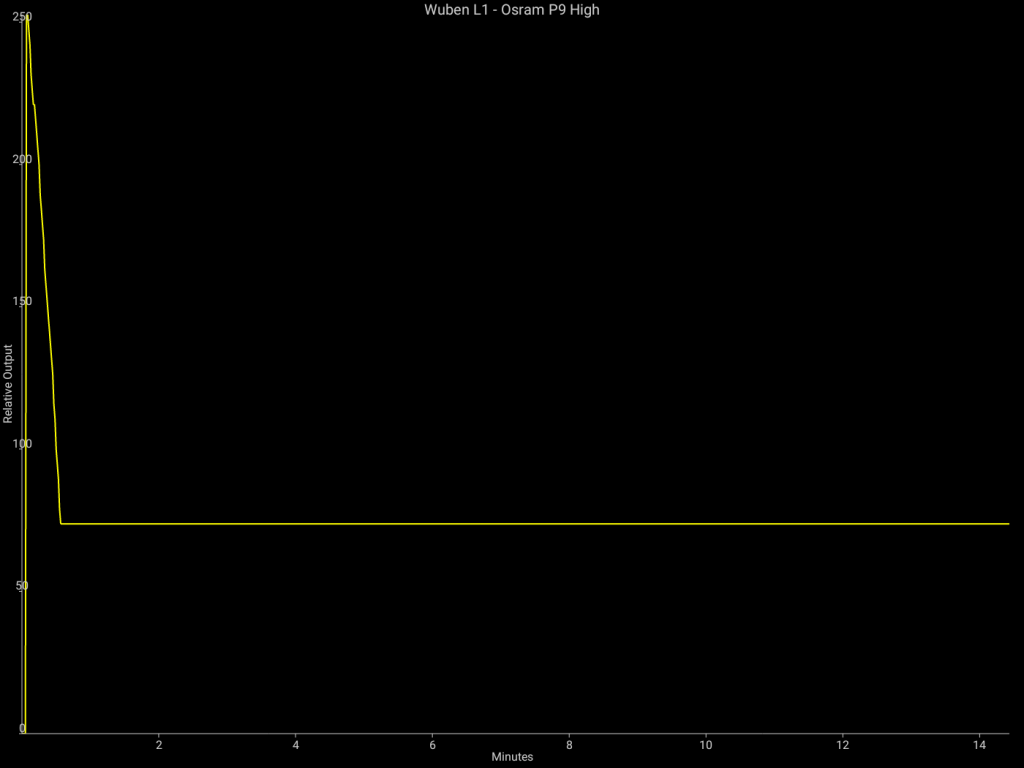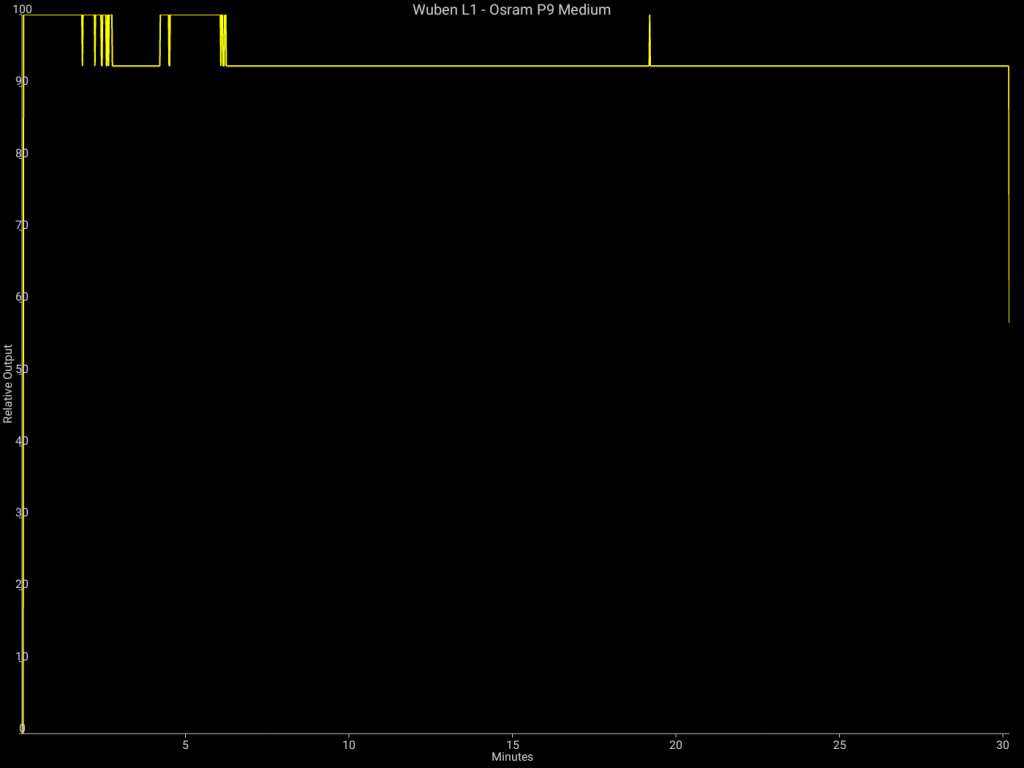 Considerations:
• Would be nice with an SFT40 instead of an SST40 for an increased range. But the SST40 is just as capable and actually produces more light.
• Light steps down immediately – saw this same pattern in the X3, as there is less heatsinking available in the rotatable head. Doesn't seem to transfer heat too well to the body. So it's a good thing that it does step down fast.
• Buttons are easily pressed – I would unscrew the tail cap before pocketing the light.
Verdict:
• The L1 is a versatile and unique flashlight that suits anyone looking for a general-purpose flashlight with long run times. When buying any flashlight, there's always a trade-off between flood and throw, but the Wuben L1 lets you have both in a reasonably affordable kit.