Wurkkos TS21 – Great Value Flashlight with 217m and 3500 lumens.
I got hold of the Wurkkos TS21! This light comes with a 3xSST20 and triple TIR optics array. Rated at 3500 lumens and 217m range. This is an excellent flood flashlight with good long-range performance. The light comes with Anduril 2 and you can set the step-down limit to 60C to help sustain output on turbo. Watch this video to find out more. Affiliate links:
Get the Wurkkos TS21 (US) 👇 https://amzn.to/43IGtbF
Get the Wurkkos TS21 (AU) 👇 https://amzn.to/42r9fMQ
Please support my work and receive discounts by purchasing recommended products here (affiliate links below):
All Discount Codes (Master Spreadsheet):
https://docs.google.com/spreadsheets/d/15CgzoZD2X7lPhRpYQeR1tFws3DbI1Lmn4AUzIfOpzMo/edit?usp=sharing
My Amazon Store:
https://www.amazon.com/shop/watercolourmentor
Nextorch Flashlights:
https://www.nextorch.com/?ref=darrenyeo
10% Off Coupon Code: "DARRENYEO"
Wuben Flashlights:
https://www.wubenlight.com/?ref=darrenyeo
10% Off Coupon: "DARRENYEO"
Liteshop Australia:
https://www.liteshop.com.au/?ref=DARRENYEO (tracking link only, non-affiliate)
Nealsgadgets:
https://www.nealsgadgets.com/?ref=darrenyeo
Coupon Code "DARRENYEO" for 15% off!
Wurkkos TS21 Review
General thoughts after a week of usage/size comparison/practicality/interesting things:
• By now you should know that Wurkkos offer some amazing deals on budget lights – the TS21 is an impressive pocket-sized flashlight that comes with 3xSST20 and triple TIR lens configuration. The TS21 comes with Anduril 2, which is great for EDC/general use and allows you to push this light to its limits in terms of sustained performance. The closest thing I can compare this to is my Sofirn IF22a which has a similar setup but with 4xSST20.
Overall Construction, LED, lens, bezel, and reflector
• Good quality machining, especially for this price point. The added stainless steel bezel adds a nice premium touch. The clip has no coating and fits in two places.
• 3xSST20 @5000K. Triple TIR lens with AR glass protective lens.
• Onboard USB-C charging.
• Magnet on the tail
UI – modes
• Anduril 2. Basic functions. Ramp.
Performance – total output, beam profile, longevity, practicality
• Ceiling bounce test, CCT, CRI.
• Huge wall of light, with distinct hotspots. Throws surprisingly well for a triple TIR.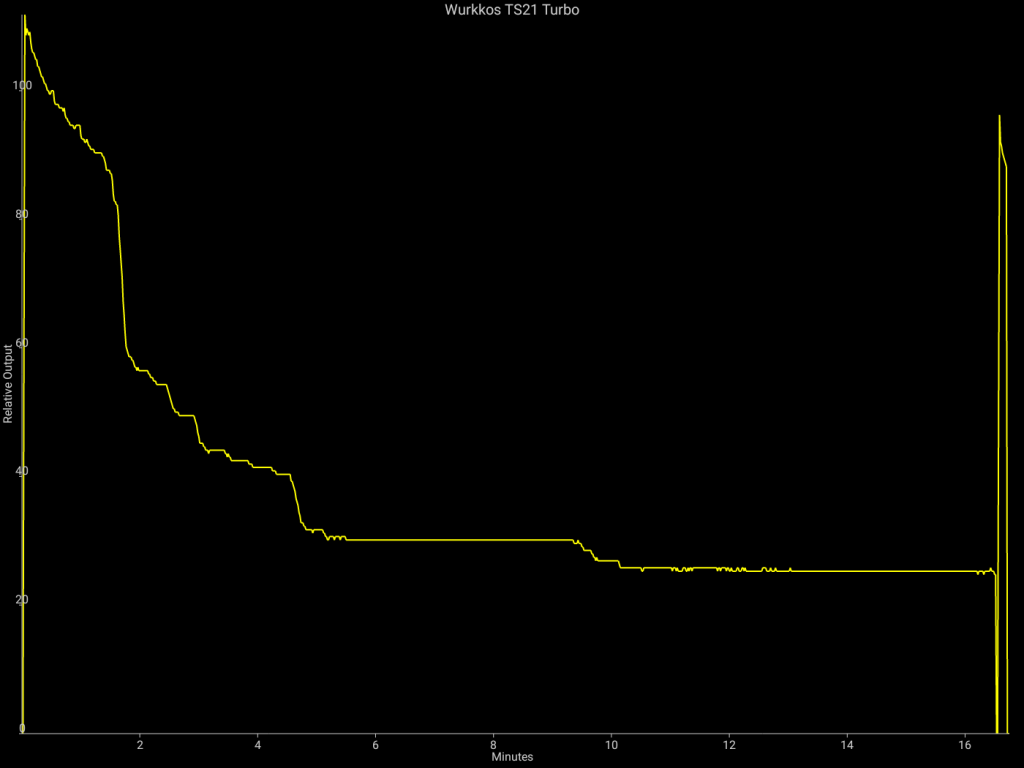 | | | | | |
| --- | --- | --- | --- | --- |
| Wurkkos TS21 | Measured with Opple Light Master Pro – figures based on switch on | | | |
| Mode | Candela @5m | Throw (metres) | CRI (Ra) | CCT (K) |
| Turbo (Stock Wurkkos) 21700 | 13600 | 233 | 60.2 | 4597 |
| Turbo (Molicel P42A) 21700 | 16350 | 256 | 61.6 | 4708 |
Considerations
• Anduril 2. Need to set the step-down temperature for maximum performance as usual on Anduril and it will get very hot. Can set it to simple UI mode – comes shipped in that mode.
• Tail switch would be nice, difficult to find the side switch in the dark.
Verdict
• Great value for a 3500-lumen flashlight that fits in your pocket, quality is excellent at this price point and you get everything you need in the box.