Sofirn SC18 Flashlight Review: UNBEATABLE Value EDC!
In this video, I review the Sofirn SC18 – one of the best value EDC flashlights out there. I say that because in terms of performance and modern features like USB-C charging, TIR lens, and included 18650 cell, I really can't find anything other there that comes close. I was surprised at how far this light throws too… 250m! Watch my video to find out more.
Sofirn SC18 Review:
General thoughts after a week of usage/size comparison/practicality:
Super impressed with the overall performance, this light has blown me away with the overall value you get. It's currently selling from $13-15 at the Sofirn store and AliExpress. $20+ on Amazon.
Works right out of the box with no messing around with no need to program in temperature settings and comes with an 18650 cell/USB charging cable.
I took this out to a large oval and was amazed to see it reach the other side. Beautiful beam profile due to the TIR lens.
Overall Construction, LED, lens, bezel, and reflector
Usual Sofirn anodizing – it's good but nothing special. Between glossy and matt black. Includes a stainless steel clip!
The button contains a green LED – easy to spot at night when operating the light.
UI – modes
Performance – total output, beam profile, longevity, practicality
Ceiling bounce test, CRI, CCT, candela
The beam has a smooth transition from the center hotspot to a wider spill. It's the best of both worlds, and I almost couldn't believe how far this little light could throw.
Very pocketable and looks around the same size as some AA flashlights. Smaller than the SC31 pro.
Lumens Estimate from light with confirmed 2000 lumen output (Nextorch TA30 Max) is 1200 lumens. Ceiling bounce – 120lux for SC18, 200 lux for TA30 Max).
| | | | | | | |
| --- | --- | --- | --- | --- | --- | --- |
| Sofirn SC18 | Measured with Opple Light Master Pro – figures based on switch on | | | | | |
| Mode | Candela @5m | Throw (metres) | | Mode | CCT (K) | CRI (Ra) |
| Turbo | 15750 | 250.998008 | | Turbo | 5955K | 67.5 |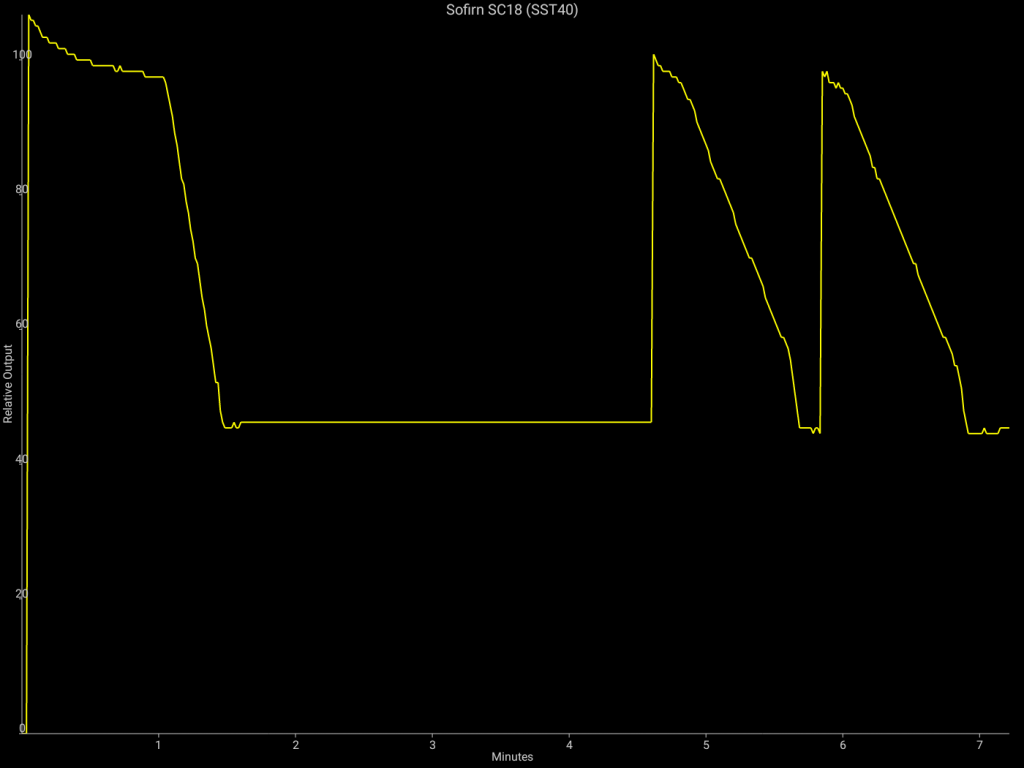 Considerations
I don't think it's producing 1800 lumens. More toward 1200. However, I'm fine with that, given how small this host is, I'd see some heat issues and early step-down times.
Slight delay in activation after pressing the button. Would prefer if the button was firmer as well, like in the SC31 Pro. This would prevent accidental activation in the pocket.
Verdict
If you're looking for the smallest and best-value 18650 EDC light around, this might be the one for you. Would make a great gift as well. It costs less than your lunch! I'm a big fan of lights like these that over-deliver and provide the best bang for buck.
---
SC18 on Amazon (Affiliate Link, 30% off): https://amzn.to/3xJEXId
SC18 on Sofirnlight (Cheapest, $13): https://www.sofirnlight.com/products/sofirn-sc18-rechargeable-edc-flashlight-max-1800-lumens-tir-lens-with-side-switch
SC18 on AliExpress (Affiliate Link): https://s.click.aliexpress.com/e/_DdWGiCh
This light was sent to me as a sample by Sofirn. I was not paid to make this video. All opinions expressed in this video are my own.
---
Please support my work by purchasing recommended products here (affiliate links): https://www.amazon.com/shop/watercolourmentor
https://www.nealsgadgets.com/?ref=darrenyeo
Coupon Code "DARRENYEO" for 15% off!