Acebeam Pokelit AA Gray: The Ultimate EDC Flashlight for Everyday Use
In this video, I'm excited to share my thoughts on the Acebeam Pokelit AA Gray, a compact EDC flashlight that packs a punch with its 1000 lumens output. As a flashlight enthusiast with over 70 flashlights in my collection, I've come to appreciate the indicators of quality and attention to detail that make this light stand out. From its flawless construction and elegant knurling to its unique beam profile and AR lens, the Pokelit AA Gray impresses on all fronts. Join me as I explore its features and performance, and see why I'm sold on Acebeam as a brand.
This light sample was provided by Acebeam. I was not paid to make this video review. All opinions are my own.
Get the Pokelit AA Gray here: https://www.acebeam.com/pokelit-aa-gray
Get the Pokelit AA here: https://www.liteshop.com.au/content/acebeam-pokelit-aa-mini-high-cri-550-lumen-edc-torch/
---
Acebeam Pokelit AA Gray (1000 Lumens) Short Review
General thoughts after a week of usage/size comparison/practicality/interesting things:
• Very impressed with this little EDC flashlight – this is the first Acebeam flashlight I own and the finish and construction are a significant step above many of my other flashlights. I own over 70 flashlights now and after some time, there are some things you notice, indicators of quality and attention to detail that I've come to appreciate.
Overall Construction, LED, lens, bezel, and reflector:
• The construction and finish on this light are flawless. Matt gray finish that is smooth. When you compare it, for example, the smooth finish on any of my Wurkkos flashlights, you realize there's significantly more grip. The knurling is elegant and effective with both cigar and normal grip. Tail switch has hardened plastic around the sides, and a softer rubber on top for wear resistance. Very satisfying to press. I like the precision detailing on the tail cap too. The double-sided clip is handy if you want to attach this light to your hat. Does not tail stand. You can only unscrew this light from the head to remove the battery.
• 14500 battery with charging port – good for travel, and keeps the size of the flashlight down. Also accepts Alkaline/NiMH AA cells.
• Unsure which LED is in the gray version, I think it is an Osram P9.
• Glass AR lens with a smooth bezel. It has a smooth reflector with a black ring around the edges. I think this is to reduce artifacts.
• Compare this to other flashlights of the same size.
UI – modes:
• Demonstration
• Remembers the last mode if you wait 3 seconds.
Performance – total output, beam profile, longevity, practicality:
• Rated at 1000 lumens. The beam profile is clean and unique for a reflector – I've never seen such a large, clean-looking hotspot in any other my other flashlights with reflectors. It's quite unique and I'm not sure how Acebeam has pulled this off with such a small reflector. It reminds me of a beam from a TIR or aspheric lens.
• CCT, CRI, Ceiling bounce test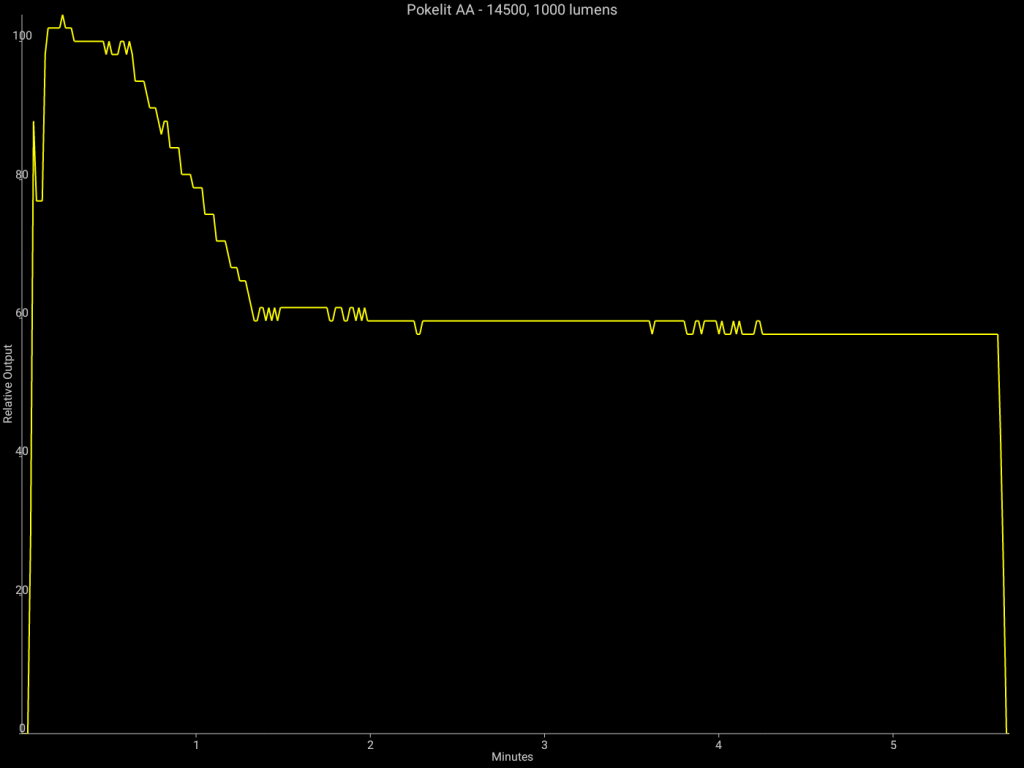 | | | | | |
| --- | --- | --- | --- | --- |
| Acebeam Pokelit AA (Gray) Osram P9 LED? | Measured with Opple Light Master Pro – figures based on switch on | | | |
| Mode | Candela @5m | Throw (metres) | CCT (K) | CRI (Ra) |
| 100% (14500) | 2550 | 100.9950494 | 5364 | 65.9 |
| 100% (AA NiMH) | 1000 | 63.2455532 | 5297 | 64.1 |
Considerations
• Really hard to fault this one, my only gripe is that the memory mode doesn't kick in until 3 seconds. I prefer 1 second so that I can access high/low mode faster when turning it on and off. For general EDC use, it's fine though.
Verdict
I'm definitely sold on Acebeam! If they can do great things with their smaller, entry-level lights like this, I'm keen to see what their larger lights have to offer. The Pokelit AA also comes in other colors and a second high CRI emitter – I'd recommend checking out their copper version if you want something really unique. All in all, one of the best quality EDCs out there – sure, you can get cheaper, even brighter lights with similar specs on paper, but the Pokelit AA excels in providing extra quality and attention to the small details which is something I have really come to appreciate.