Convoy S2+ Copper: A Powerful Flashlight with a Unique Finish
In this video, I review the Convoy S2+ Copper flashlight with SFT40 LED. With its premium copper construction and intense beam, this light is a standout in my collection. I share my thoughts on the construction, performance, and user interface, and discuss its practicality for everyday carry/home use. Check out my full review for an in-depth look at this impressive flashlight!
Get the Copper S2+ here: https://www.aliexpress.com/item/1005005032690753.html
Please support my work and receive discounts by purchasing recommended products here (affiliate links below):
All Discount Codes (Master Spreadsheet):
https://docs.google.com/spreadsheets/d/15CgzoZD2X7lPhRpYQeR1tFws3DbI1Lmn4AUzIfOpzMo/edit?usp=sharing
---
My Amazon Store:
https://www.amazon.com/shop/watercolourmentor
Nextorch Flashlights:
https://www.nextorch.com/?ref=darrenyeo
10% Off Coupon Code: "DARRENYEO"
Wuben Flashlights:
https://www.wubenlight.com/?ref=darrenyeo
10% Off Coupon: "DARRENYEO"
Nealsgadgets:
https://www.nealsgadgets.com/?ref=darrenyeo
Coupon Code "DARRENYEO" for 15% off!
My website: https://www.darrenyeo.com
---
Convoy S2+ Copper (SFT40) Short Review:

General thoughts after a week of usage/size comparison/practicality/interesting things:
• Of course the main allure of this light is its copper construction. It has a brilliant yellowish-golden luster and a more 'premium' feel compared to my aluminum flashlights.
• This light is heavy! Of course that might be a negative if you're planning to EDC this, but for me it's exactly what I'm looking for in a light I can use around the house. It's very bright for its size.
• Compared to my other S2+ lights and similar-sized 18650 lights.
Overall Construction, LED, lens, bezel, and reflector
• Solid copper with a clear coat of some varnish? As I mentioned, it's quite heavy, over 200 grams.
• The light is well machined
• SFT40 produces an intense hotspot with plenty of spill. AR lens. Bezel is simple and sits flush with the rest of the body. Smooth reflector.
• Takes an 18650 battery.
UI – modes
• Mode demonstration
• 12-mode grouping
Performance – total output, beam profile, longevity
• CCT, CRI, ceiling bounce
• 5A?
• Beam has a bright white tint, with a hint of coolness.
• On the lower settings, you could run it for close to a day.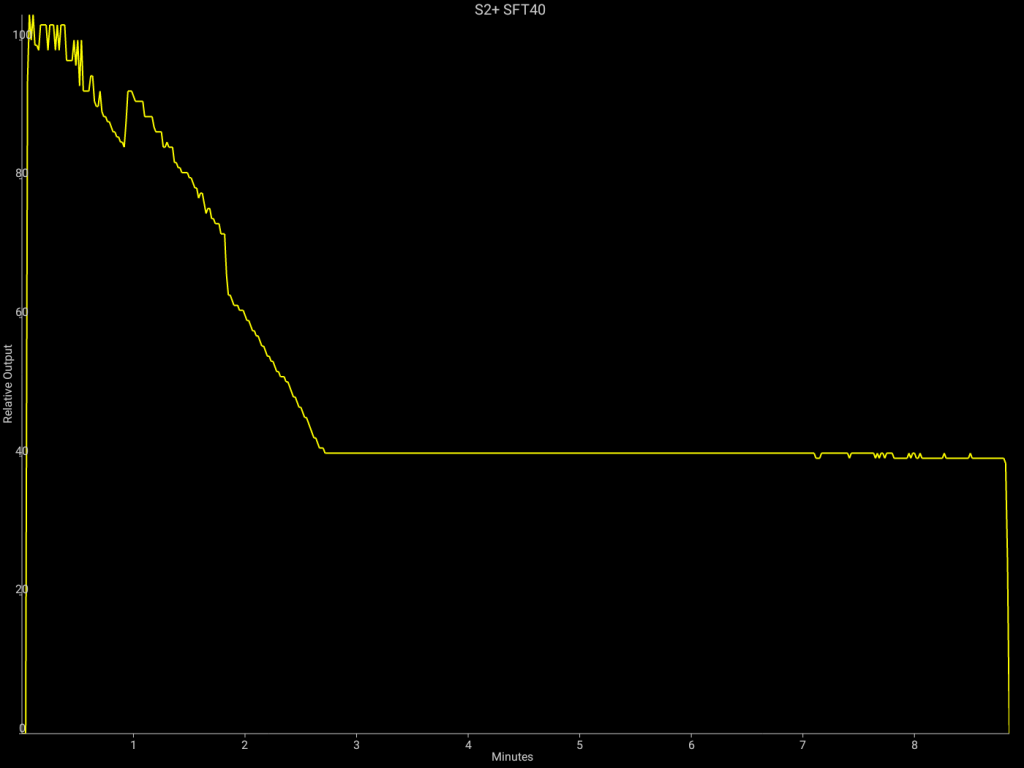 | | | | | |
| --- | --- | --- | --- | --- |
| Convoy S2+ SFT40 | Measured with Opple Light Master Pro – figures based on switch on | | | |
| Mode | Candela @5m | Throw (metres) | CCT (K) | CRI (Ra) |
| 100% | 27725 | 333.0165161 | 6583 | 70.1 |
Considerations
• Heavy
• I would prefer no varnish. Could be a pro for some. At some stage, I'll try to remove it with a rotary tool and some abrasive.
• High candela
• No battery included. No onboard charging.
Verdict
A unique S2+ light, I wonder if Simon will make one in titanium one day or bronze. The copper does an excellent job of dissipating heat and I love the look and feel of this light. I didn't realize how heavy it would be but in my pocket, it isn't too noticeable, only when I hold it. but keep that in mind if you're packing light.