This Flashlight is UNBELIEVABLE – Acebeam P16 Review!
In this video, I take a closer look at the Acebeam P16 – a premium tactical flashlight that's got it all. From military-grade construction to high brightness and candela, this light is a must-have for any flashlight enthusiast. I discuss the overall construction, LED, lens, bezel, and reflector, as well as the user interface, modes, and performance. Plus, I compare it to other lights and provide some considerations to keep in mind.
Overall, I'm impressed with the P16 and consider it one of the top tactical EDC flashlights out there. So join me for this in-depth review and see for yourself what makes the Acebeam P16 so special.
I purchased this light at a 40% discount from Acebeam for this review. I was not paid to create this video, all thoughts and opinions are my own.
Get the Acebeam P16 here:
https://www.liteshop.com.au/content/acebeam-defender-p16-dual-switch-1800-lumen-tactical-torch/
https://www.acebeam.com/defender-p16
My website: https://www.darrenyeo.com
Video Transcript: Acebeam P16
Short Review:
General thoughts after a week of usage/size comparison/practicality/interesting things:
• Finally, I got the Acebeam P16 – this is a light I wish I'd known about earlier! As you guys know, I am really obsessed with my tactical flashlights these days, and this one ticks all of the boxes. High quality, lightweight, small, high brightness/candela, and tactical functionality. It's small enough to pocket comfortably.
Overall Construction, LED, lens, bezel, and reflector
• This light has a premium feel to it – the machining is flawless and there is some grippy knurling covering parts of the tail cap, body, and head of the flashlight. Military-grade construction with HAIII anodizing, IP68 rating, and 1.5m impact resistance. The anodizing is matt black, chalky, and grippy. 156grams.
• SFT40 with TIR lens and AR glass protector. The bezel is crenulated and made of stainless steel. I like that it has been smoothed down a little so it's not sharp like on the Olight Warrior 3.
• You can partially disassemble this light. The head and tail cap are removable. The bezel is glued shut. Acebeam says in the manual that it will void your warranty if you open it up further.
• The P16 has a double-sided clip that is seated under the head of the flashlight – not going anywhere. The flashlight itself does not have USB-C charging but the included 18650 can be charged with a USB-C cable. It takes any non-proprietary 18650 battery. Also takes CR123/RCR123 batteries.
• Comparison with other lights.
UI – modes
• Demonstration
• Daily mode vs tactical mode
• Momentary mode and strobe – 1 step
Performance – total output, beam profile, longevity, practicality
• Rated at 1800 lumens, the TIR lens produces an intense hotspot with smooth spill.
• CCT, CRI, ceiling bounce test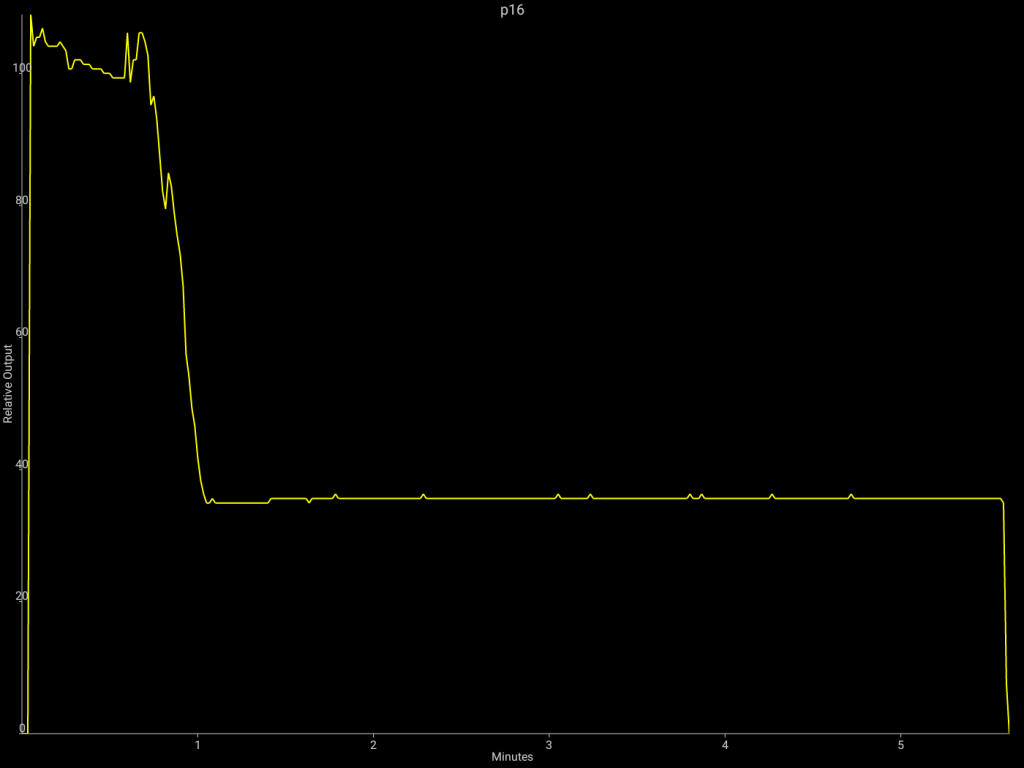 | | | | | |
| --- | --- | --- | --- | --- |
| Acebeam P16 | Measured with Opple Light Master Pro – figures based on switch on | | | |
| Mode | Candela @5m | Throw (metres) | CCT (K) | CRI (Ra) |
| 100% | 67925 | 521.2485012 | 6301 | 69.3 |
Considerations
• No onboard charging, so if you're using other nonproprietary cells, you'll need an external charger.
• The clip rubs against the tail cap. A bit annoying but doesn't cause any damage.
• High candela
• Doesn't tail stand
Verdict
Overall the P16 has earned a place in my top 5 tactical EDC flashlights. Acebeam gets so many things right in this flashlight, and though it costs more than some other lights with similar specs, the P16 excels in terms of overall quality, attention to detail, and performance. I just wish I knew about this light earlier!