Unveiling the Wuben Knight X-O
In this video, I review the Wuben X-O, a uniquely designed EDC flashlight that comes in 6 different variants. I liked the wide angle beam (175 degrees), paired with a strong hotspot, that helps me to see into my peripheries.
Where most flashlight companies have gone for the traditional tube design, Wuben has tried something different… and it just works! Watch this video to find out what I REALLY think about this light.
Get the Knight X-O here (Affiliate Code: DARRENYEO for 10% off): https://www.wubenlight.com/products/x-0-knight-the-brightest-edc-flashlight-in-your-pocket?ref=darrenyeo
This light was sent to me as a sample by Wuben. I was not paid to make this video. All opinions expressed in this video are my own.
Wuben Knight X-O Review
General thoughts after a week of usage/size comparison/practicality:
This is one of the most unique designs I've seen on a flashlight. It has a sci-fi/industrial feel to it, and it's fascinating to look at. It's a great EDC light you can clip onto the edge of your pocket, on the front of your bike, bag strap – and it always faces forward.
Overall Construction, LED, lens, bezel, and reflector
There are a lot of intricate cutouts and angles on this light – this would definitely take a lot longer to machine and design than a normal tube design. There's not a single sharp edge on the light either.
I opted for the white MAO model, but there is also a black anodized version, as well as titanium, brass, and other colors.
LED – Samsung LH351D, high CRI, warm white. The LED is housed in a TIR lens that produces a 175-degree beam with a distinct hotspot. It's a very wide beam that is not usual for most flashlights – this means that you can see well into your peripherals which is useful if this is the only light you're carrying around.
Runs off an 18350 cell. Fortunately, it is replaceable, but you'll need some pliers to grip the end of it to unscrew it.
9 slots for tritium vials/glow tubes
UI – modes
Modes demo
Lockout
Customizable level per mode
Performance – total output, beam profile, longevity, practicality
Ceiling bounce test, CRI, CCT, candela
Nice looking beam with no artifacts – I'm glad the center hotspot is bright enough to see into the distance.
Easily pocketable, you can clip it to the edge of your pocket or just drop it in. It feels like I'm carrying a little rock in my pocket due to the shape of the light
| | | | | | | |
| --- | --- | --- | --- | --- | --- | --- |
| Wuben X-0 | Measured with Opple Light Master Pro – figures based on switch on | | | | | |
| Mode | Candela @5m | Throw (metres) | | Mode | CCT (K) | CRI (Ra) |
| Turbo | 3250 | 114.0175425 | | Turbo | 4664 | 97.3 |
| High | 1000 | 63.2455532 | | Turbo | 4431 | 95.1 |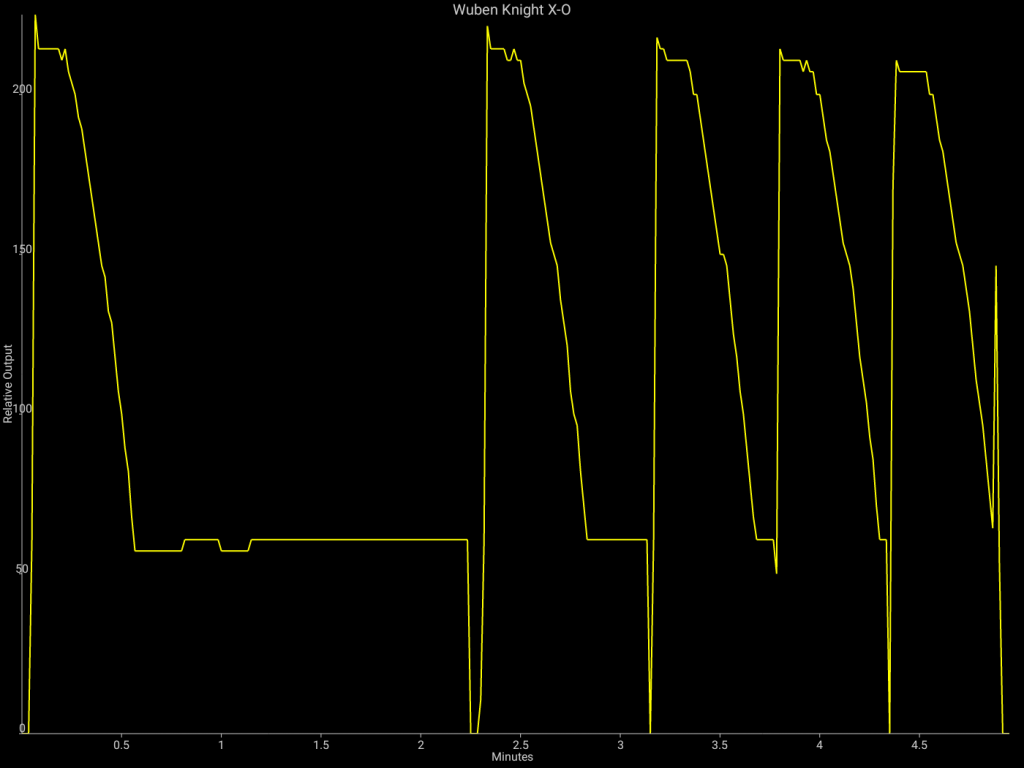 Considerations
Turbo ramps down from 1100 to 250 lumens – no in-between. I'm guessing this is to reduce heat and also preserve battery life as the light was still cool to the touch after 30 seconds of turbo. To reactivate turbo, you'll need to turn the light off, and on, then double-click. 250 lumens is acceptable and plenty of light for most purposes – especially in pitch black.
The clip is very rigid but secure once in place.
Verdict
The Wuben Knight X-O has definitely become one of my favorite EDC lights and it lives in the front pocket of my backpack. Funny enough, I'm always holding onto it at my desk as it's a great fidget torch – opening and closing the port cover. If you're looking for a practical mini flashlight with a unique design, this could be the one for you!