Convoy M21F Flashlight Review
I've been used to a spartan-like design from most of my Convoy lights… so I was surprised to find this one on the Convoy website, tucked away at the back!
The M21F has a variety of modern functions including step/smooth ramping, stainless steel tactical bezel, USB-C charging, momentary/tactical mode, battery charge indicator/voltage indicator, and lockout. It's also a formidable thrower with the CULPM1.TG emitter. In fact, it throws further than the M21B with the same LED.
Make sure you watch my video to find out more!
Convoy Official Store: https://convoy.aliexpress.com/store/330416
Get the M21F (Cheapest, $31): https://www.aliexpress.com/item/1005003779236464.html
This light was sent to me as a sample by Convoy Flashlights. I was not paid to make this video. All opinions expressed in this video are my own.
---
Please support my work by purchasing recommended products here (affiliate links): https://www.amazon.com/shop/watercolourmentor
https://www.nealsgadgets.com/?ref=darrenyeo
Coupon Code "DARRENYEO" for 15% off!
Convoy M21F Review Notes
General thoughts after a week of usage/size comparison/practicality:
Finally, a Convoy light with a charging port! Okay, so there are a few other Convoy models with onboard charging, but it's great to see them incorporating this feature, as it makes it so much more convenient to carry around on trips. It's a few millimeters longer than the M21B. 5mm wider bezel. I really like the design of the M21F – there's a more 'premium' feel to it. Things like the stainless steel bezel (smooth finish), and better quality knurling. It just looks more modern than other models like the M21B.
Overall Construction, LED, lens, bezel, and reflector
Smooth, and high-quality anodizing. I like the numerous cutouts on the head, body, tail cap, and around the button – these increase the surface area for heat dissipation and look good too. The button sits flush on the surface of the light, but it's quite firm – so it won't turn on in your pocket. I like that blue accent around the switch too.
Runs off 21700 cell
The USB port cover is watertight and sits flush too. The switch glows red when charging.
Mine comes with a CULPM1.TG and produces between 1500-2000 lumens. A black gasket sits around the LED, keeping it perfectly centered. Smooth reflector to maximize the range of this emitter.
UI – modes
Performance – total output, beam profile, longevity, practicality
Ceiling bounce test, CRI, CCT, candela
793m range on 100% which is an extra 60m compared to the M21B
Intense hotspot with circular spill. Can be used as a walking light on lower modes.
Pocketable but only just – the head is 40mm in diameter.
| | | |
| --- | --- | --- |
| Convoy M21F | Measured with Opple Light Master Pro – figures based on switch on | |
| Mode | Candela @5m | Throw (metres) |
| 100% | 157275 | 793.158244 |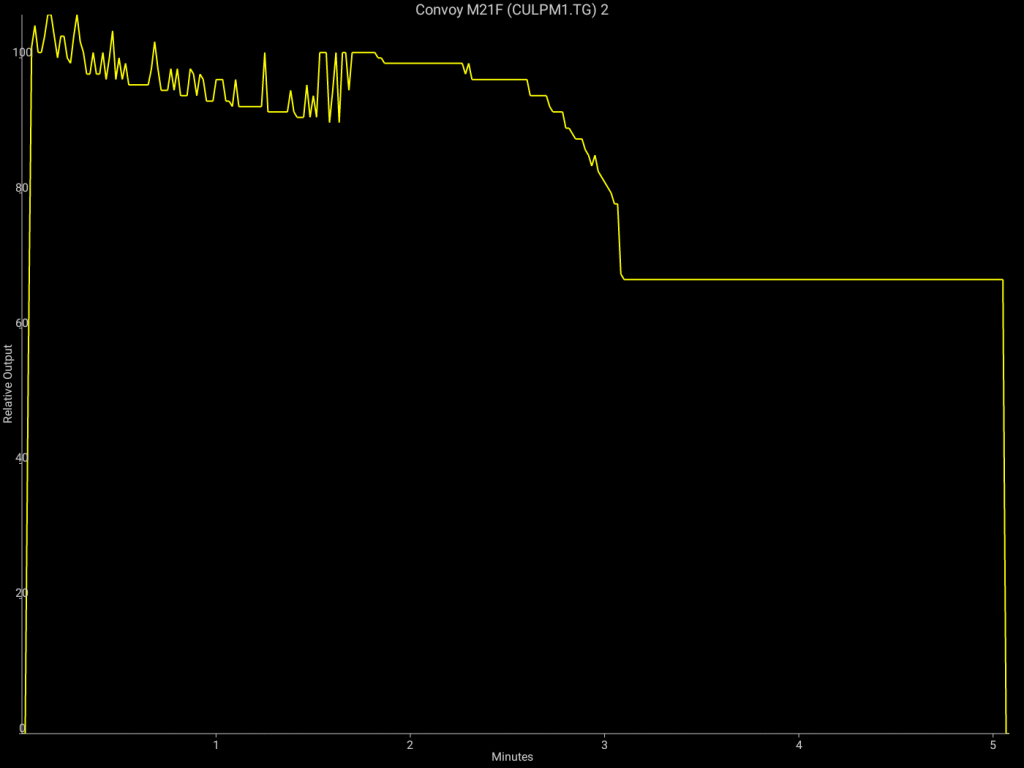 Considerations
Gets hot in 100% mode, though it does step down. I just reduce the mode to one step lower if I have the light on for a long time and it's fine.
No tail switch. However, there is a tactical function as I demonstrated before.
Verdict
The M21F is a great step for Convoy, it combines some modern and advanced features not present on other Convoy models whilst still maintaining a low price point. It's suited for mid to long-range purposes. This light would be good for those of you who might be looking at something like the M21B but want some of those extra features and more attention to detail with the design.