In this video, I review the newly released Nitecore P23i. This is an incredible little pocket rocket that produces 3000 lumens (SFT70). I haven't owned any lights before with an SFT70 so was curious to see how this one compares to an SFT40, which is one of the best throwy emitters out there. This light is suited to security/law enforcement personnel, as well as civilian use. The tactical mode with a one-step strobe is easy to use and is a great self-defense feature too. If you're looking for a truly pocketable tactical EDC flashlight, make sure you watch this video.
Skip to beamshots: 11:12
Get this light here from Flashlightgo: https://flashlightgo.com/products/nitecore-p23i-i-generation-long-range-3000-lumen-tactical-flashlight (Voucher: "DARRENYEO" at check out for 10% off all Nitecore Products).
This flashlight was kindly provided as a sample from Flashlightgo. I was not paid to make this video. All opinions are my own.
---
Transcript: Nitecore P23i Tactical Flashlight
General thoughts after a week of usage/size comparison/practicality:
• Nitecore has squeezed a heck of a lot of features into this pocketable flashlight. I'm a fan of the dual switch design, very intuitive. One of my top 5 EDCs to carry around. You can barely feel it in your pocket and it's crazy that it pumps out 3000 lumens.
LED, lens, bezel, and reflector
• SFT70 – it's basically a higher output, larger version of the SFT40, with a similar throwy beam profile. Glass breaking beads on the bezel. SMO reflector – very pleased they used this instead of OP to maximize throw.
UI – modes
• Daily and Tactical modes demo
Performance – total output, beam profile, longevity, practicality
• Ceiling bounce test, CRI, CCT
• Large, bright hotspot – looks like a big spotlight
• Daily mode makes it practical to use around the house – memorizes the ULTRALOW mode. Tactical great for outdoor and EDC use. Best of both worlds. Long runtime on 21700 cell.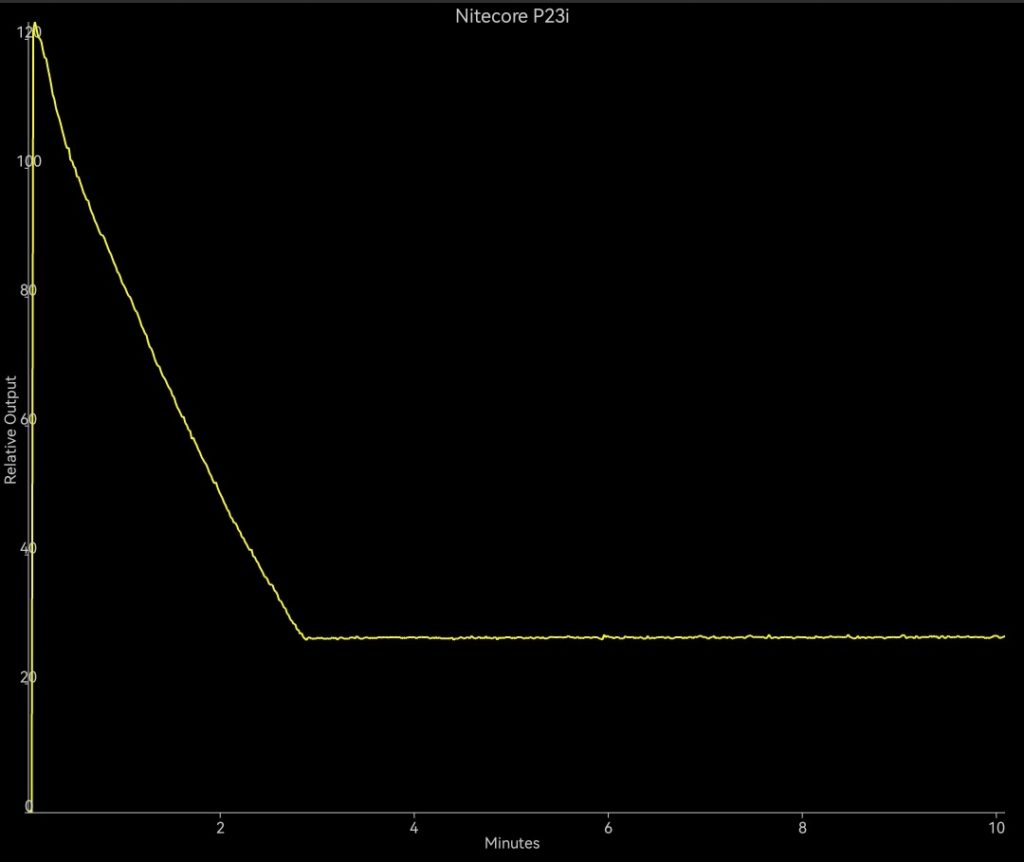 Considerations
• Slight dark spot – common for SFT70 lights. Proprietary battery.
Verdict
• Excellent Tactical EDC light. Most lights with all these features, especially 3000-lumen output are significantly larger. I'm impressed Nitecore has managed to so many features into a fully-fledged tactical thrower. Portability is a big thing for me, I tend the grab the most powerful but smallest light I can find. This fits that category to a tee. If you don't mind the proprietary battery, go ahead and get one.