Wurkkos FC13 (3000 Lumens, SFT40) Full Review 2023
In this video, we'll look at Wurkkos's new iteration of the FC13. Wurkkos initially released this light with the SFN43 LED, which had mixed reviews and a more floody beam. When I learned Wurkkos introduced an SFT40 model of these lights, I was excited to get my hands on one, considering I'm a big fan of the FC12 with the same SFT40 emitter. This light also comes in a version with the XHP50.2, which has a similar beam pattern to the SFN43.
If you're in the market for a well-priced, pocketable flashlight with all the bells and whistles, make sure you watch this video.
Get the FC13 here: https://wurkkos.com/products/new-release-wurkkos-fc13-usb-c-rechargeable-edc-flashlight-powerbank-ip68-3400lm-239m-5700k-sfn43-led-blf-anduril-20?VariantsId=10637
Skip to beam shots: 07:04
Graphs and measurements on my website:
This light was provided to me as a sample from Wurkkos. I was not paid to make this video, all opinions are my own.
Please support my work by purchasing recommended products here (affiliate links): https://www.amazon.com/shop/watercolourmentor
https://www.nealsgadgets.com/?ref=darrenyeo
Coupon Code "DARRENYEO" for 15% off.
---
Wurkkos FC13 SFT40 Video Transcript
General thoughts after a week of usage/size comparison/practicality:
• Great value EDC that comes with a huge variety of modes due to the Anduril firmware. It's well and truly pocketable at just over 11cm and 25mm bezel. You can customize it to the way you want, and color-changing Aux is just a cool feature I like playing around with! Wurkkos made the right decision to provide an option for the SFT40 in this light, the extra throw is useful to see what's ahead, and paired with significant flood, it's perfect.
LED, lens, bezel, and reflector
• SFT40 in cool white. AR lens, metallic orange bezel accent, and lots of cutouts for increased surface area. OP reflector. I'd be interested to see what the beam would look like with an SMO reflector, but OP leads to a smoother and more balanced beam for general use.
• 2.4A Onboard charging with sturdy rubber port. Emergency power bank function! Why don't you see this on higher-priced flashlights?
UI – modes
• Anduril demonstration – 3 clicks to change ramp mode. Turbo, momentary turbo, moonlight mode, candle/lightning mode, battery check, etc.
• RGB Aux lights – the aux mode after rainbow mode displays the battery voltage in color format (4.2V = purple, moves to cooler than warmer colors)
• Advanced: the ability to change the floor and ceiling of the ramp mode. Ability to change temperature cutoff.
Performance – total output, beam profile, longevity, practicality
• Ceiling bounce test, CCT/CRI
• I opted for the SFT40 version as it runs cooler than the XHP50.2 and throws further too. Temperature regulation reduces output and temperature to sustainable levels. This is a good thing, especially for small flashlights.
• 2.5 hours runtime on high.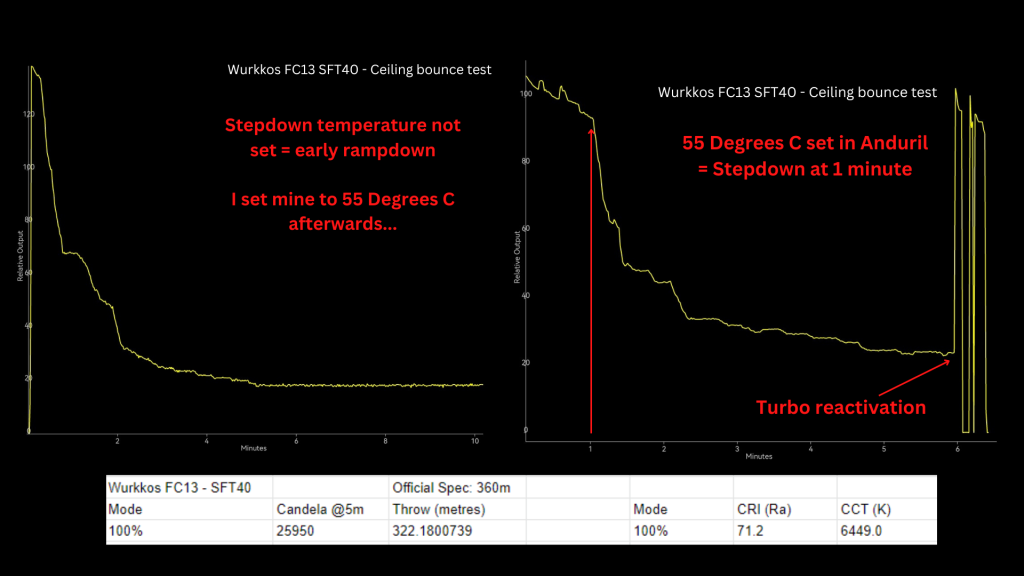 Considerations
• This light uses a FET driver.
• You will likely need another high-draw battery for maximum lumens/throw. I'm probably going to modify the tail spring too (spring bypass) to reduce resistance for an extra boost.
Verdict
• This is a budget-priced EDC flashlight, but it comes with many value-packed features you don't see in a light of this price range. Bang for buck, I put Wurkkos in my top 3 'budget' flashlight brands. With the FC13, you get great throw and usable spill, customizable UI, special modes like candle and variable frequency strobe, bike mode, RGB AUX light, the battery is included and it's an emergency power bank too. I recommend this light to anyone looking for a well-priced, solid EDC that does it all! It'd make a great gift too.