Wuben C2 Flashlight Review (2023 Model): All-rounder with power bank feature
I review the 2023 model of the Wuben C2. This is a great value all-purpose flashlight. I've owned the 2022 model for over a year now and wanted to see if anything's changed in this year's model. Affiliate link below.
Get the Wuben C2 here 👇
https://www.wubenlight.com/products/wuben-c2-2000-lumens-flashlight-for-outdoor-needs?ref=darrenyeo (25% off code: "DY25")
Amazon 👇
https://amzn.to/3PlrZJ0
Please support my work and receive discounts by purchasing recommended products through my affiliate links featured in this video description. If you buy something through one of these links, it won't cost you anything extra, but I may receive a small commission, which helps keep this channel going. Thanks!
Flashlight Discount Codes (Master Spreadsheet) 👇👇👇
🔦🔦🔦 https://bit.ly/darrenyeo
My Amazon Store 👇
🔦 https://www.amazon.com/shop/watercolourmentor
Wuben Flashlights 👇
🔦 https://www.wubenlight.com/?ref=darrenyeo
10% Off Coupon: "DARRENYEO"
Wuben C2 Transcript
General thoughts after a week of usage/size comparison/practicality/interesting things:
• So I've owned the 2022 model of the C2 for over a year now – it was one of the first Wuben flashlights I bought when I got back into this hobby. Wuben recently sent me a sample of their 2023 model of the C2 for review and I thought I'd do a fresh review and also show you some differences between the 2022 model. The main differences – a faster step down, glossier anodization, and shorter clip – the older model had a deep carry clip.
• What you get in the box: 21700 cell, charging cable, spare o-rings, lanyard, manual.
• Comparison with other 21700 lights.
Overall Construction, LED, lens, bezel and reflector
• Well machined, no imperfections – lots of grippy knurling and cutouts on the head to help with heat dissipation. Anodizing is glossy black. It's a little slippery but the knurling helps a lot. Rubber button with 'W' logo. I've found it quite easy to find the button in the dark because it protrudes out. You can also click 3 times to activate a 'breathing' light feature. The clip allows the tail of the light to protrude out of your pocket for quick access.
• SST40 with SMO reflector, glass lens. The bezel is slightly crenulated, you can see if the light is on when you place it head down.
• Power bank feature/USB-C charging.
UI – modes
• 5 clicks to lock/unlock.
• Three clicks to turn on/off breathing LED.
• Single click to turn on, hold to cycle 4 modes. Double-click from any of these modes for turbo.
• Double press from off for strobe/SOS.
Performance – total output, beam profile, longevity, practicality
• CCT, CRI, Ceiling bounce test
• Surprisingly throwy beam with plenty of spill.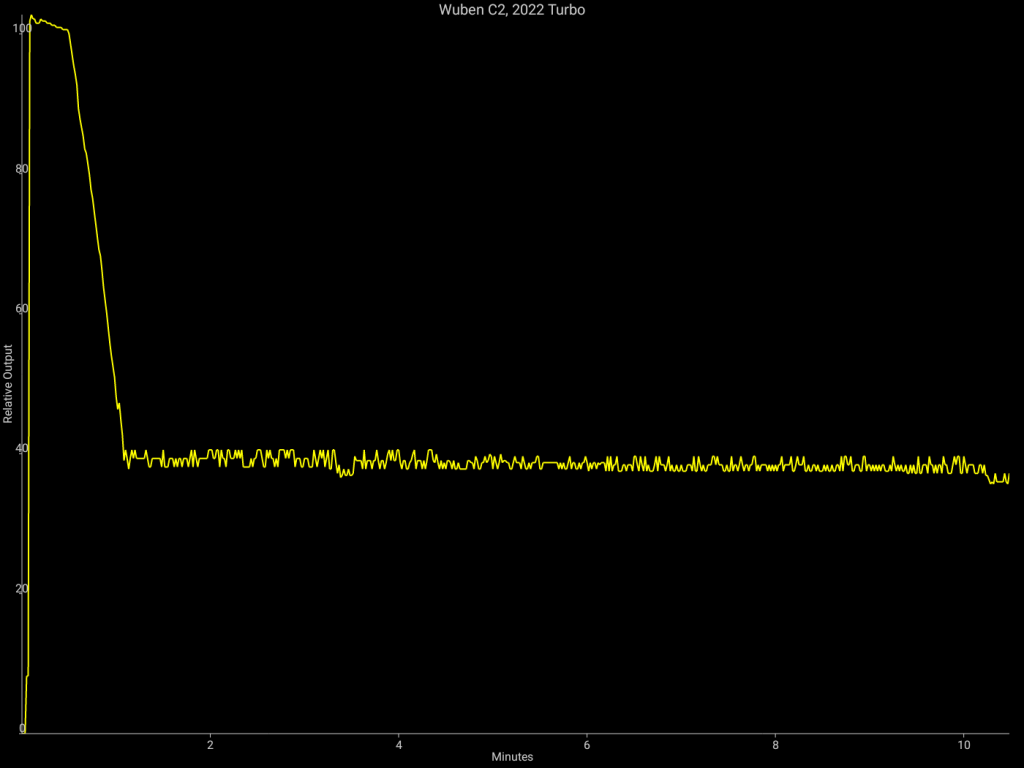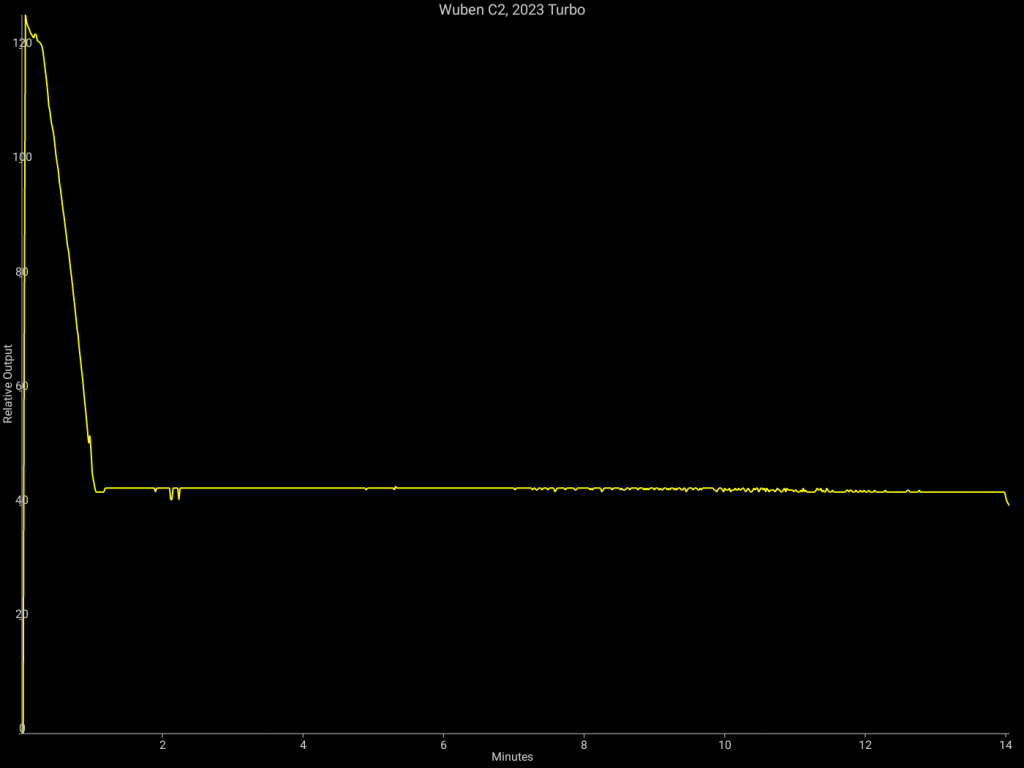 Considerations
• Steps down fast. The light manages heat very well, but Wuben could have pushed it and extended the step-down time on turbo.
• Beam is greenish on lower modes – typical for SST40.
• Fairly chunky – even for a 21700 cell light. The larger reflector/bezel does well to increase the range of this light though. It feels like this light could handle some serious drops – it's rated for drops up to 1m.
• No shortcut to turbo. Would prefer double click to go straight to turbo. The shortcut to strobe is a good self-defense feature though.
Verdict
The Wuben C2 is an excellent general-purpose 21700 cell light that can be used for short-range use around the house, camping, or on walks, but also is suited for long-distance spotting on higher/turbo modes. As I mentioned, I have two of these around the house and one of them has taken a few drops and knocks over the past year – still works perfectly.