RovyVon A8 Review: Most Feature-packed Keychain Light?
I reviewed my first RovyVon flashlight, the A8! This is a do-it-all keychain light that has a heap of features that you don't find in many other similar flashlights. Find out more in my video. Affiliate links below.
Get the RovyVon A8 (5000K, Nichia 219C) here 👇
https://amzn.to/45RrjlP
Get the RovyVon A8 (6500K, SST20) here 👇
https://amzn.to/3PEINfN
Amazon AUSTRALIA RovyVon A8 (5000K, Nichia 219C) 👇
https://amzn.to/3EKcGol
This light was sent to me by RovyVon as a sample for review. I was not paid to make this video, nor have I held back on any negative opinions.
Please support my work and receive discounts by purchasing recommended products through my affiliate links featured in this video description. If you buy something through one of these links, it won't cost you anything extra, but I may receive a small commission, which helps keep this channel going. Thanks!
Flashlight Discount Codes (Master Spreadsheet) 👇👇👇
🔦🔦🔦 https://bit.ly/darrenyeo
My Amazon Store 👇
🔦 https://www.amazon.com/shop/watercolourmentor
RovyVon A8 (UV/RED) – 4th Generation
General thoughts after a week of usage/size comparison/practicality/interesting things:
• It's hard to get excited about a chain light. I got my first RovyVon light, the A8 in the mail the other day and when I took it out of the box, I didn't really think much of it. But it wasn't until I had a closer look that I realized this light was something special.
• What you get in the box – some accessories (keyrings, magnetic tail/reversible clip), the light itself, and instructions – also come in a little storage box.
• Comparison with Nextorch K40
Overall Construction, LED, lens, bezel and reflector
• PC construction with stainless steel bezel. Appears to be a copper heatsink in the head of the light too. Clear windows in front of the auxiliary lights.
• Mine comes with a high CRI Nichia 219C (5000K) + TIR lens. You can also get the version with the SST20 @ 6500K. Mine comes with a 365nm UV auxiliary LED (genuine, as most are 395nm since they are cheaper but produce more visible light). Also, get a red LED (625nm) and a 4000K white LED (70 CRI). There are two other versions of this light that have 2x white LED/UV and Amber/Red/Blue LEDs. Incredible range of LED options for a keychain light. I don't know any other company that does this.
• Recessed stainless steel button.
UI – modes
• 5 clicks to lock/unlock
• Hold for a momentary high.
• Double-click to go to the memory mode of the main LED and click to cycle brightness.
• Triple click for UV/Red modes. Click again to cycle between modes.
• Quad click for white side LED. Click again to go from low to high.
Performance – total output, beam profile, longevity, practicality
• CCT, CRI, Ceiling bounce test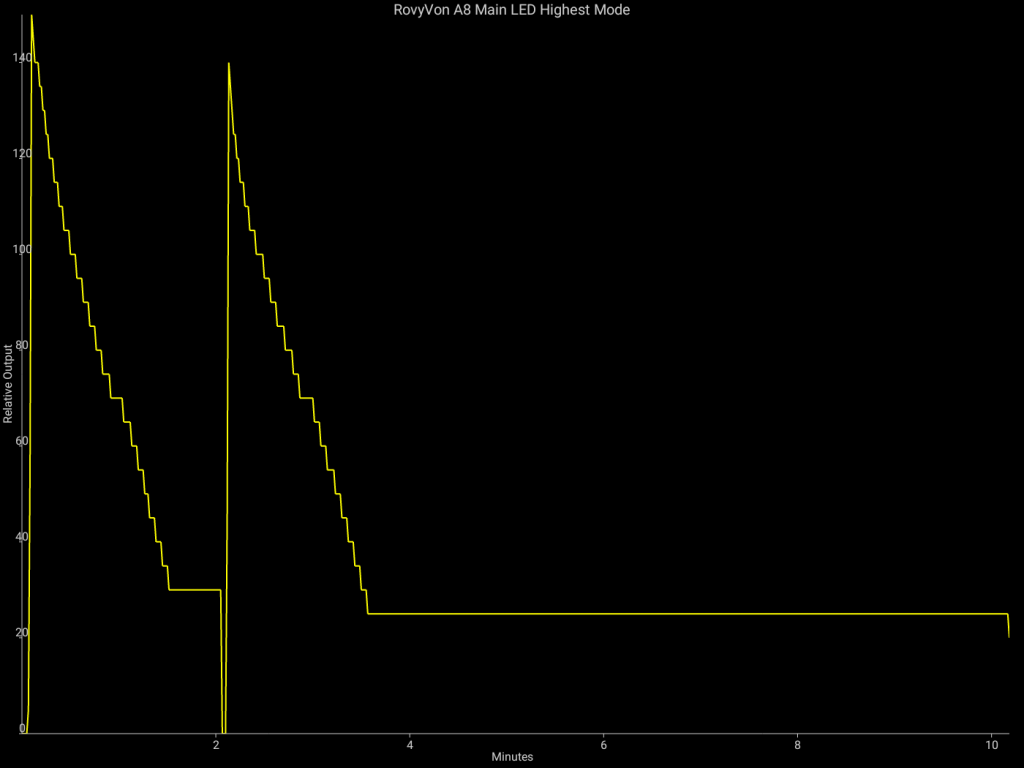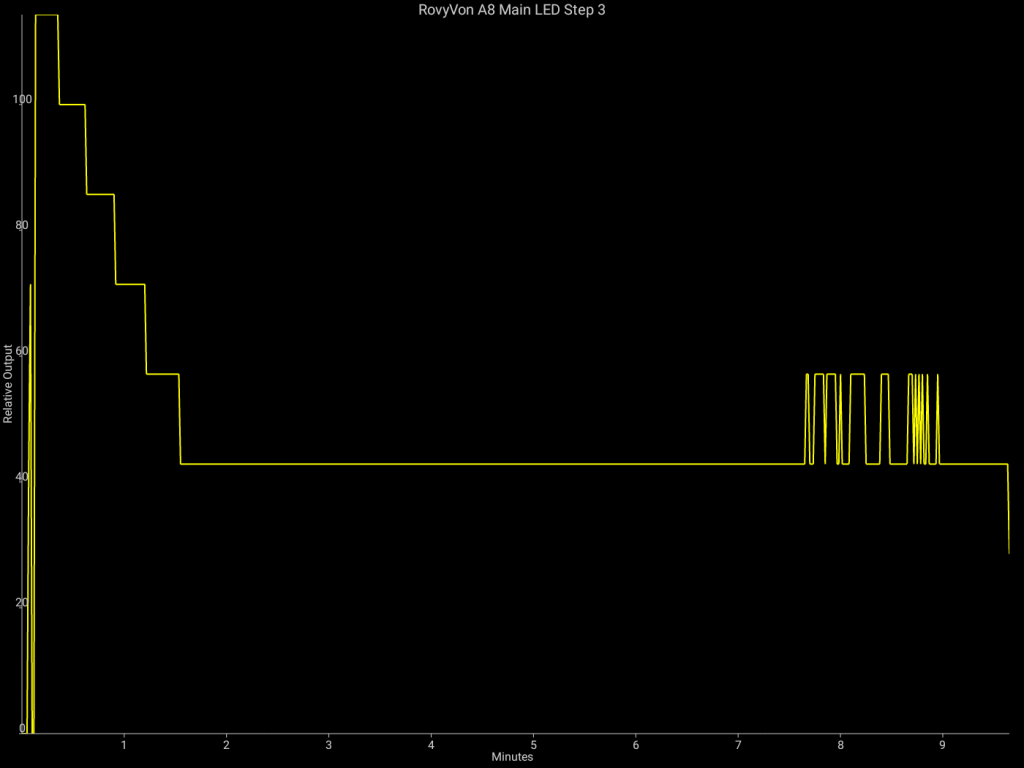 Considerations
• Non-replaceable battery.
• PC construction – keeps things light, but I prefer aluminum for added durability.
• Would prefer the UV mode separate from the red/white LEDs in the UI. E.g. 4 clicks to access UV.
Verdict
The attention to detail and amount of different features and functions in the A8 make it worthwhile considering if you're looking for an EDC flashlight. RovyVon has thought of everything under the sun when it comes to smaller EDC flashlights. This is the most advanced keychain light I own and I'd recommend it if you're looking for the perfect all-rounder EDC flashlight.