Wurkkos TD01: Best Value TIR Lens Thrower?
I review the Wurkkos TD01 – this is the largest TIR lens flashlight I own that easily throws over 1km!
Get the Wurkkos TD01 here 👇
https://wurkkos.com/products/wurkkos-td01-powerful-2200lm-1039m-tactical-flashlight?DIST=REJCFVQ%3D
Amazon 👇
https://amzn.to/3PGqIwG (paid link)
Please support my work and receive discounts by purchasing recommended products through my affiliate links which are found throughout this video description. If you buy something through one of these links, it won't cost you anything extra, but I may receive a small commission, which helps keep this channel going. Thanks!
Flashlight Discount Codes (Master Spreadsheet) 👇👇👇
🔦🔦🔦 https://bit.ly/darrenyeo
My Amazon Store 👇
🔦 https://www.amazon.com/shop/watercolourmentor
Nextorch Flashlights 👇
🔦 https://www.nextorch.com/?ref=darrenyeo
10% Off Coupon Code: "DARRENYEO"
Wuben Flashlights 👇
🔦 https://www.wubenlight.com/?ref=darrenyeo
10% Off Coupon: "DARRENYEO"
Liteshop Australia 👇
🔦 https://www.liteshop.com.au/?a_c=MMl99&referring_service=link (5% Off Code: 6DXI0BZ35CFH)
Imalent Official Store 👇
🔦 https://www.imalentstore.com/?ref=DYEO (10% Off Code: 'DarrenYeo')
Nealsgadgets 👇
🔦 https://www.nealsgadgets.com/?ref=darrenyeo
Coupon Code "DARRENYEO" for 15% off!
Wurkkos TD01: Review
General thoughts after a week of usage/size comparison/practicality/interesting things:
• So I've been looking for a larger TIR lens flashlight, so was quite excited when Wurkkos sent me over the TD01 – a powerful thrower that comes at an amazing price. The TD01 is perfect if you don't want to carry around something with an enormous reflector like the Convoy L8 but also want significantly more range than the Sofirn IF22a and other medium-sized SMO reflector flashlights. I'm a huge fan of tactical flashlights, so the UI is perfect for me too.
• You get everything you need in the box – a 21700 cell, USB charging cable, manual, and the flashlight.
• Size comparisons: Sofirn IF22a, Convoy L21B, Sofirn IF22a
Overall Construction, LED, lens, bezel, and reflector:
• Feels very solid and good quality machining, although I spotted a couple of rough spots above the button. More of a cosmetic thing. The anodizing however steals the show – I'm used to that slippery/shiny finish that you see with most Wurkkos lights, but here, they've opted for a matt black, chalky finish. It feels much grippier and I feel confident holding the light without a lanyard. I think Wurkkos has changed it from previous versions – as it used to look glossier. The machining on the battery tube is deep and adds significant grip too. The balancing point is just below the button – this makes the light balanced when holding in tactical or normal orientation.
• The tailswitch sticks out slightly, unable to tailstand. Large, single button made of rubber. The side switch is made of aluminum and also functions as a battery indicator.
• Bezel is 58mm in diameter. You can unscrew it easily, lift out the TIR lens, and potentially swap the LED. It's good to see Wurkkos include a protective glass lens too in front of the TIR lens. I have some other higher-priced flashlights that leave this out. SFT40 – perfect for a host of this size, however, I could see someone swapping in an Osram W2 for extra range.
UI – modes
• Two Uis. Press and hold the side switch for 3 seconds to switch between tactical and lighting modes.
• Shortcut to moonlight – press and hold the side switch while activating the tail switch.
Performance – total output, beam profile, longevity, practicality
• CCT, CRI, Ceiling bounce test
• Intense hotspot with generous spill at the higher modes. There's not much still on the lower modes with any TIR lens flashlight. I tried running the same throw tests with a high-drain Samsung 30T and Molicel P42a with no difference in output/throw.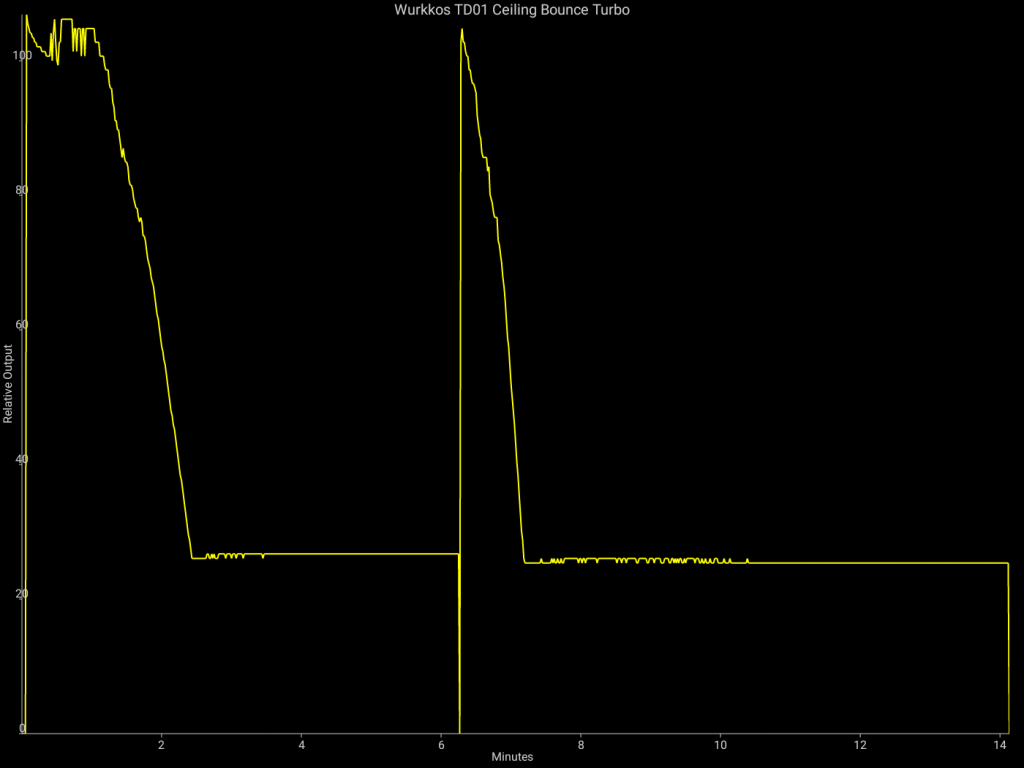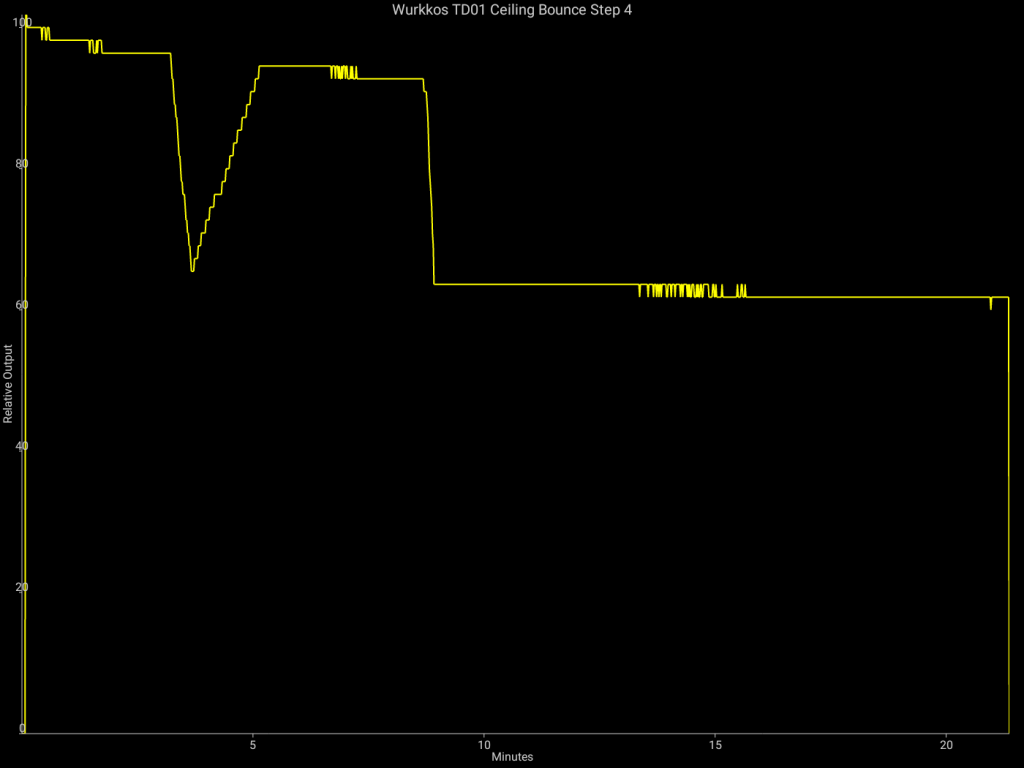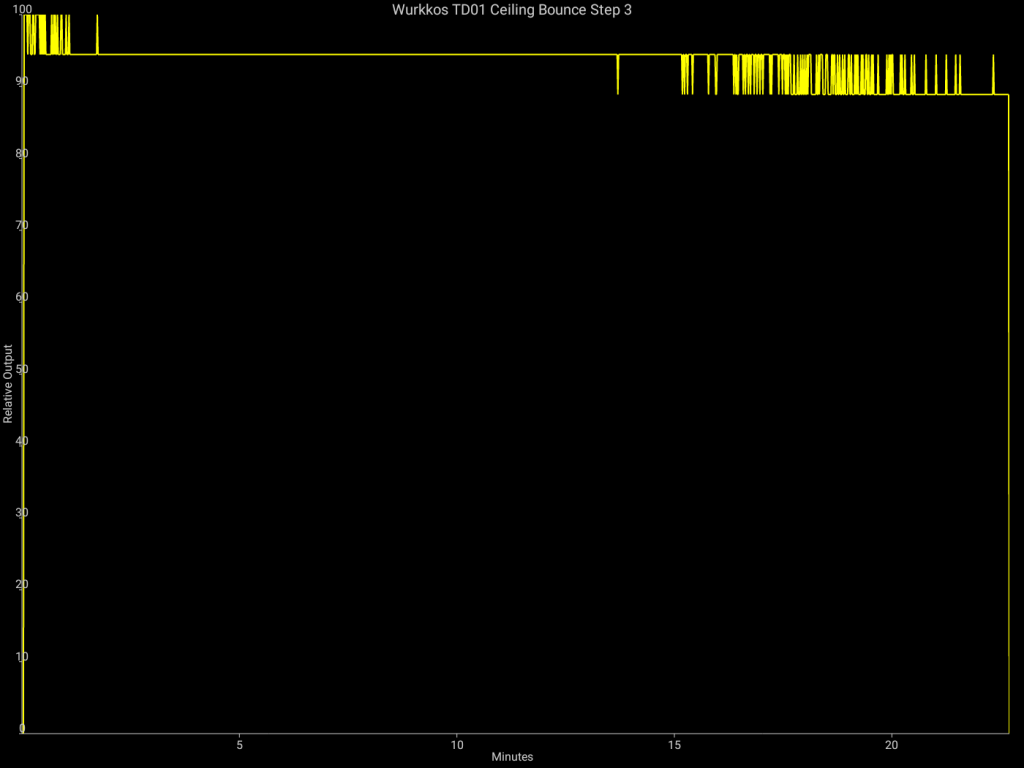 Considerations
• Not pocketable – but that's what you get when you want extra throw.
• There is a slight delay in activating momentary mode – this is definitely a mechanical and not an e-switch, but it appears that the activation point of the switch is further down. It's not very noticeable – maybe a 1-200ms delay. Can be tricky to activate strobe.
• FET driver – brightness will drop as battery voltage drops.
Verdict
• It's amazing that these so-called 'budget' lights such as the TD01 are now getting closer and even matching the performance and features you see on more expensive flashlights. Of course, there are a few compromises, but for what you pay, you probably won't even care about those. The tactical features along with the 1KM throw are something you don't see in many budget flashlights.