Ultimate EDC Tactical Flashlight?
Get up to 40% off the Warrior Nano here 👇
Link: https://www.olightstore.com.au/s/KCTX08 (affiliate link)
Valid from: 8 pm 25/10-11:59 27/10 AEDT
In this video, I review the Olight Warrior Nano – the newest Olight's Warrior Series member! Find out if this is the right tactical flashlight for you.
Warrior Nano Review
General thoughts after a week of usage/size comparison/practicality/interesting things:
• So I've been using this light for a while now and have to say… this is the smallest fully functional tactical flashlight that I own! Very easy to pocket – same diameter all the way through. That's important for me as it's more comfortable to carry. One of the things I love about the Warrior Nano is that it doesn't sacrifice functionality.
• What comes in the box.
• Size comparison with Warrior Mini 3, Warrior 3S, Nextorch TA20, Sofirn SC18
Overall Construction, LED, lens, bezel, and reflector
• Even though the Warrior Nano is smaller than the Warrior Mini 3 and Warrior 3S, you still get the same premium construction. It looks and feels like a shorter version of the Warrior Mini 3, even down to the clip. Speaking of which, the light sits further down in the pocket when placed head down than the Warrior Mini 3. Nice grippy knurling helps a lot, given the anodizing is a little slippery – it feels identical to the finish on the Warrior 3S. I really like the design of the tactical tail switch – it's sleek and doesn't have a gap between the outer and inner switch that you see on the Warrior 3S. It's also magnetic. The side switch is relatively large compared to some others I've seen and made of aluminum, slightly recessed.
• TIR lens with unknown LED – I think it's an Osram P9 based on the 1200-lumen spec and tint. Olight made a good call here – they could have gone with a more powerful LED but it'd have short runtime due to the 18350 cell… not to mention excess heat that would cause issues in this smaller host. The bezel is crenulated but not sharp. Nice blue accent.
UI – modes
• Side switch – Moonlight – hold side switch. Click and hold to change modes (LMH) and double press for turbo.
• Tail switch – half press quickly for medium constant on, hard press quickly for turbo constant on. Holding the switch on either mode will activate the momentary mode.
• Switch from Turbo to Half Turbo and vice versa – connect to the charger and hold the side switch for 2+ seconds.
• Switch from hard press turbo to hard press strobe – hold hard press while pressing side switch.
• Electronic lockout – hold the side switch for 2+ seconds
Performance – total output, beam profile, longevity, practicality
• CCT, CRI, Ceiling bounce test
• TIR lens produces a decently throwy beam with a large hotspot and lots of spill.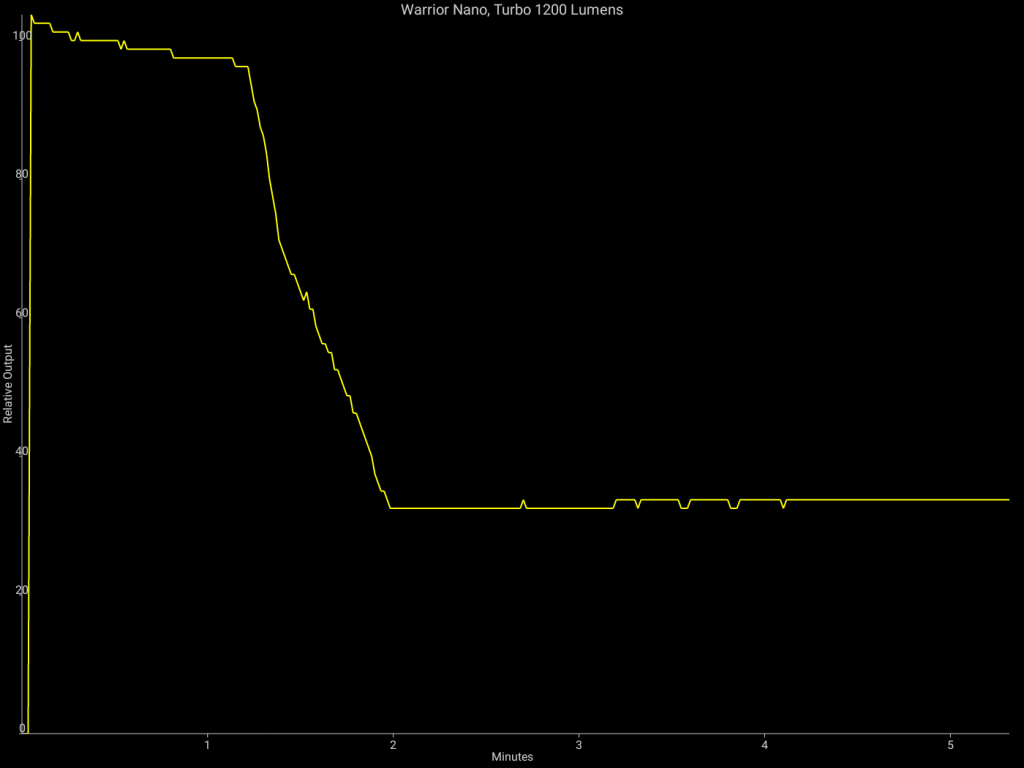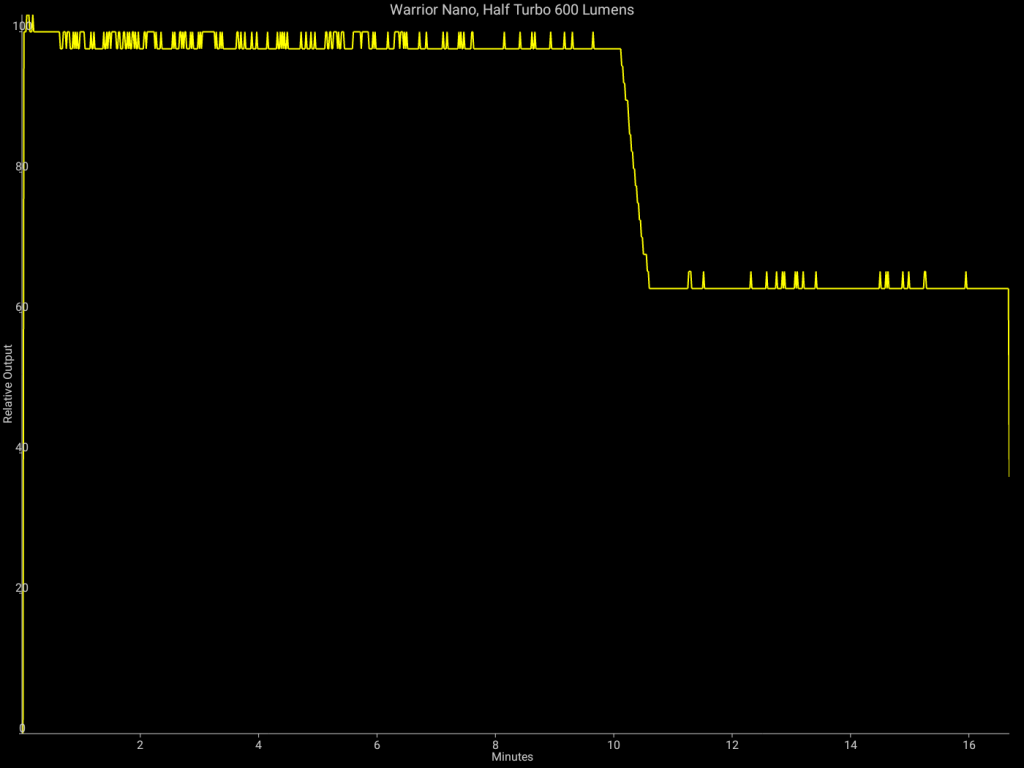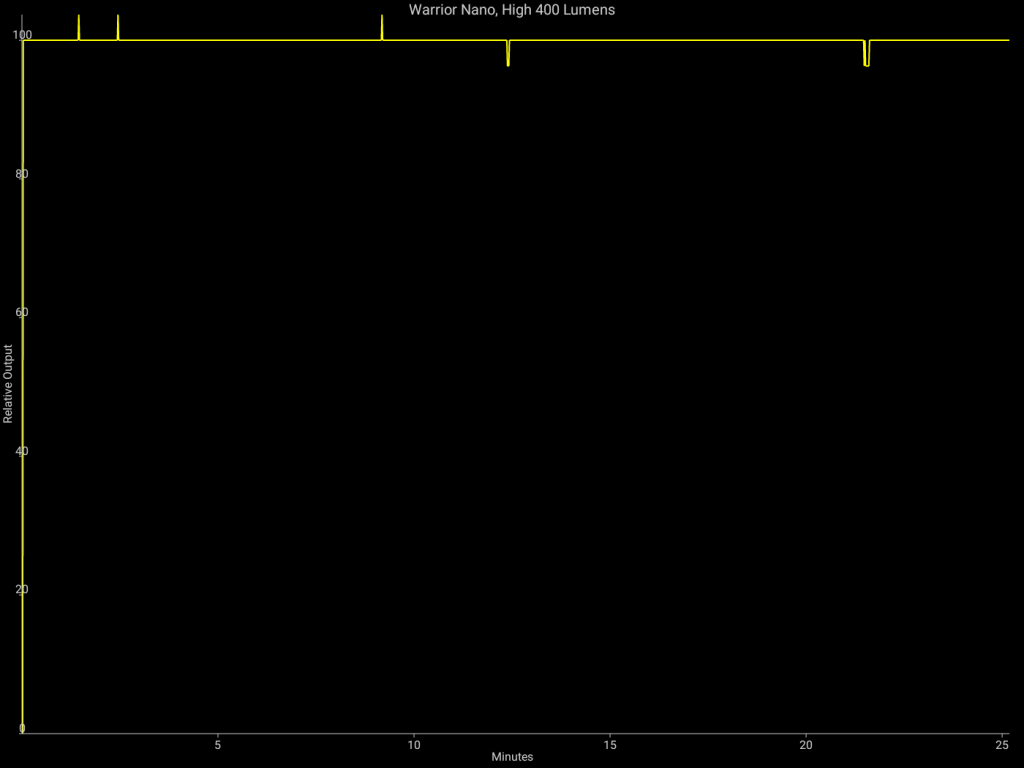 Considerations
• 1200 lumen output max. I still think this is the sweet spot for a host of this size.
• Proprietary charging/battery. 18350 – small capacity battery.
• No proximity sensor – this could be a pro or con depending on your preferences. The beam does get hot enough on turbo to melt plastic and burn darker-colored paper, but you can always lock the light out.
Verdict
• The Olight Warrior Nano is the perfect ultra-compact, tactical flashlight or backup flashlight. It's light, takes up little room, and is very bright for its size. The design of the side switch and easy access to 4 brightness settings make it great if you are just planning to use it as a smaller general-purpose light.