Nextorch TA30C Review: Award-Winning Tactical Flashlight?
I review the Nextorch TA30C – one of my favorite tactical flashlights. The TA30C is used by law enforcement agencies across Europe. Find out why in my video. Affiliate links are below.
Get the TA30C here 👇
https://www.nextorch.com/products/ta30c-one-step-strobe-tactical-flashlight?ref=darrenyeo (10% off code: "DARRENYEO")
Please support my work and receive discounts by purchasing recommended products below. Affiliate links are below.
Flashlight Discount Codes (Master Spreadsheet) 👇👇👇
🔦🔦🔦 https://bit.ly/darrenyeo
My Amazon Store 👇
🔦 https://www.amazon.com/shop/watercolourmentor
Nextorch Flashlights 👇
🔦 https://www.nextorch.com/?ref=darrenyeo
10% Off Coupon Code: "DARRENYEO"
Nextorch TA30C Video Transcript
General thoughts after a week of usage/size comparison/practicality/interesting things:
• So I own a heap of Nextorch flashlights and this has got to be one of my most used ones these days – it's the TA30C, and Nextorch sent this one as a free sample for the purposes of this review. This light easily fits in the palm of your hand and compared to the larger TA30C Max, is way more practical to carry around in your pocket. You can barely tell it's there.
• Comes with an 18650 cell with USB-C charging port, lanyard, and instruction manual. Nextorch also sent me the FR1 tactical ring and V31 holster. These pair perfectly with the TA30C. The FR1 ring acts as a locking system. I like how you can rotate the position of the light too for hands-free use. Also fits other flashlights. The signature belongs to Herman Rosenberg, the designer of this holster – former special forces and sought-after specialist in Germany. This holster is used by the German, Austrian, and Swiss Police forces. Made of PA GF (glass-filled polyamide) – high rigidity, mechanical strength, hardness, toughness. Over-engineered in my opinion which is a good thing, considering it's designed for high loads in high-temperature conditions. Demo of holster.
• Size comparison with other tactical lights.
Overall Construction, LED, lens, bezel and reflector
• High-quality machining – the entire body is milled from a single piece of aluminum, the only part that can be unscrewed is the tailcap. I love the anodization on all my Nextorch lights – very grippy and matt black – which does not attract attention. Square cut, anodized threads. Important as you'll need to take the battery out to charge.
• SST40 LED with glass lens. SMO reflector – interesting as it's the only Nextorch light I own that uses one. Titanium strike bezel with three ceramic glass-breaking beads. Anti-roll cutouts on the head.
• Nextorch uses a special rotating switch paired with a two-stage tailswitch. Very versatile and I like that you can quickly go into the lowest mode by rotating the end. The two-stage switch allows you to access the highest mode and strobe very easily – the button is huge and also functions as a battery indicator.
UI – modes
• LMH + Strobe
• Shortcut to high/strobe from tailswitch.
Performance – total output, beam profile, longevity, practicality
• CCT, CRI, Ceiling bounce test
• The beam is a great combo of flood and throw. No ringiness in the beam, and the hotspot blends into the spill nicely.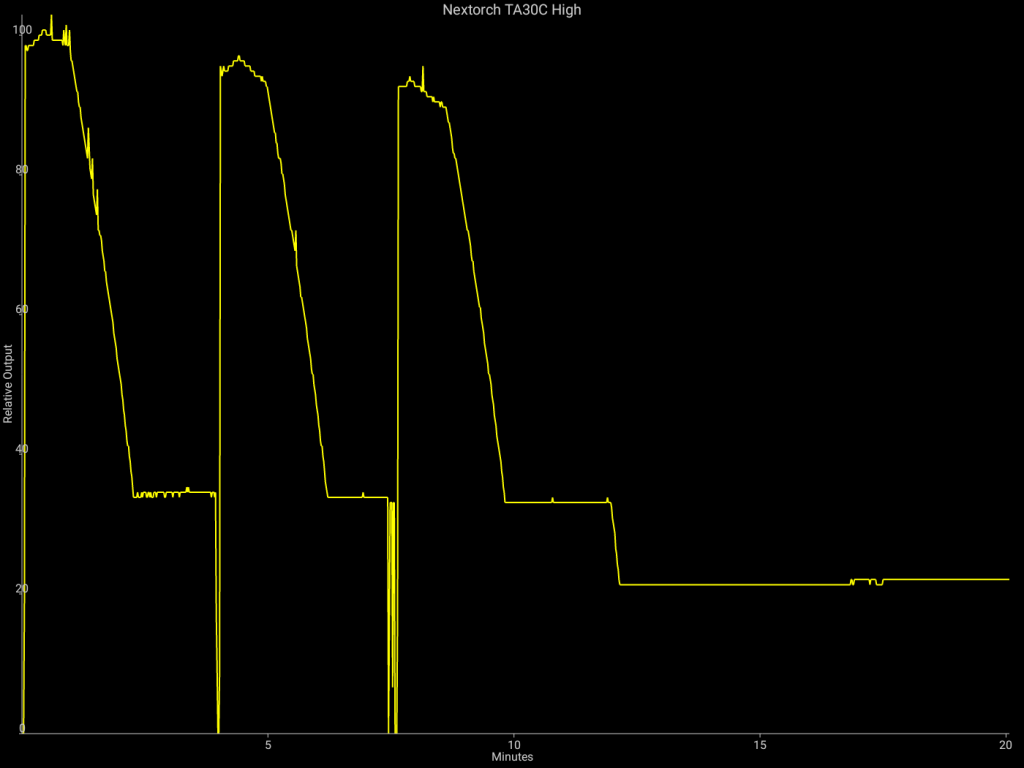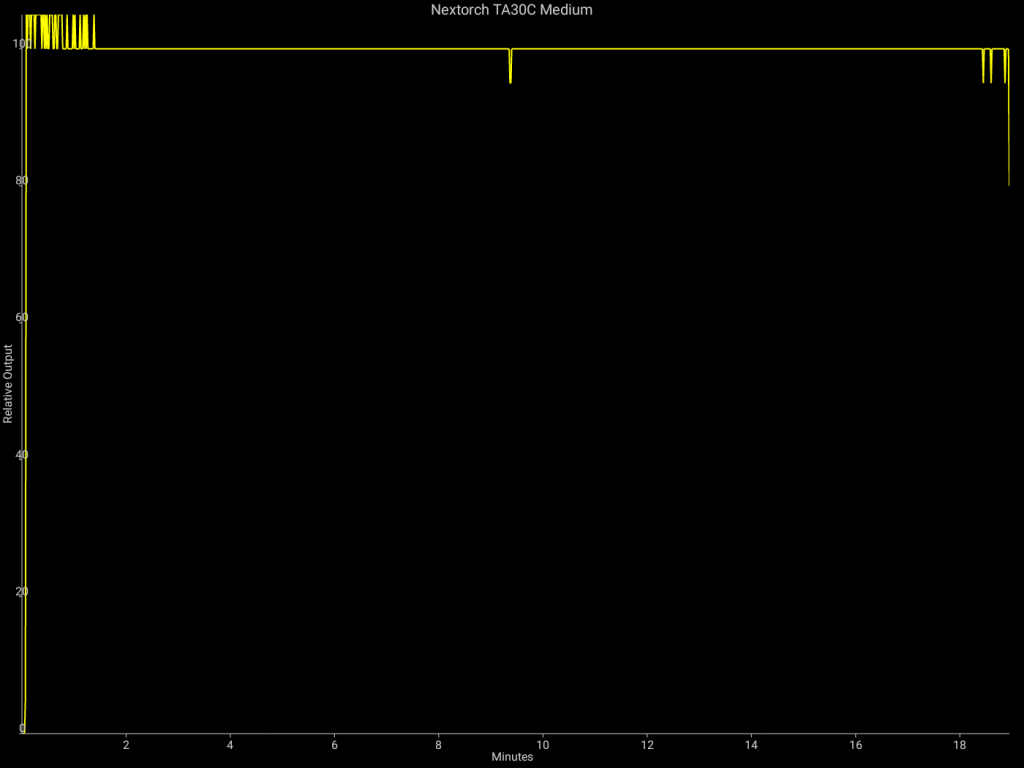 Considerations
• No onboard charging – but I don't mind this for tactical lights. Feels more structurally sound.
• Edges of the beam show the bezel cutouts due to the recessed lens, but this is another feature I like in tactical lights – it helps protect the lens/LED in cases where you'll use the bezel to break a window.
• Pricier than other budget tactical lights, but you get some unique features and higher construction quality.
• Wish it had an SFT40, though the smooth reflector does make up for it, and a 300m throw is still very respectable.
Verdict
• The TA30C earns a place in my top 3 Tactical EDC flashlights. It's the perfect size to carry around, and the simple UI/rotating switch makes it perfect for not only tactical use but as an EDC light. I highly recommend the TA30C if you're looking for a top-quality, pocketable tactical flashlight.