Nextorch TA20: The Perfect Compact Tactical Flashlight?
Finally, it's here! In this video, I'll be reviewing the highly anticipated Nextorch TA20. This is a compact tactical flashlight that runs off a 16340 or CR123 cell. Nextorch also included their FR1 tactical ring with my TA20
Get the Nextorch TA20 here: https://www.nextorch.com/products/ta20-portable-tri-setting-tactical-flashlight?ref=darrenyeo (10% Off Coupon Code: "DARRENYEO")
The Nextorch TA20 was provided to me as a sample for review. I have not been paid to create this video. All opinions are my own.
---
Please support my work and receive discounts by purchasing recommended products here (affiliate links below):
All Discount Codes (Master Spreadsheet):
https://docs.google.com/spreadsheets/d/15CgzoZD2X7lPhRpYQeR1tFws3DbI1Lmn4AUzIfOpzMo/edit?usp=sharing
My Amazon Store:
https://www.amazon.com/shop/watercolourmentor
Nextorch Flashlights:
https://www.nextorch.com/?ref=darrenyeo
10% Off Coupon Code: "DARRENYEO"
---
Nextorch TA20 Video Transcript:
General thoughts after a week of usage/size comparison/practicality/interesting things:
• Finally, Nextorch has released its TA20 tactical flashlight! I've been excited waiting for this to arrive. Although I have many tactical flashlights, I'm fond of this one for some reason. I think it's a combination of the size, the miniatured, almost cute, but high-quality and functional design. Almost like those lights that come with a shorter 18350 tube. This little light has all the bells and whistles you'd find in Nextorch's regular-sized tactical lights. I like the rotary selector on the head of the light – it's intuitive and provides a one-step lockout mode. This light is 10cm long with a 30mm bezel, quite compact, and easy to fit in your pocket. Nextorch market this as a duty flashlight.
• Comparison with other Nextorch tactical lights and smaller EDC flashlights.
Overall Construction, LED, lens, bezel, and reflector
• Excellent construction and design as always from Nextorch. The TA20 uses the same matt-black/chalky anodizing that you see on their other tactical lights such as the TA30C Max – it's grippy and provides a low-profile look. There is some checkered knurling on the battery tube and tailcap to provide extra grip. On the tailcap, you have a single aluminum button allowing access to both 100% and the strobe. It can handle challenging environments with 2m impact resistance and is IPX8 rated which means you can submerge it underwater up to 2m.
• Things get interesting when we take a look at the head and bezel. Firstly, we have a tri-mode selector allowing access to TAC, DUTY, and LOCK mode. The bezel also contains anti-roll cutouts. It has a crenulated titanium bezel with three nano-ceramic window-breaking beads.
• Osram P9 LED with OP reflector + glass AR lens. Good choice for a small host – an SFT40 would overheat quickly.
• Nextorch sent me a FR-1 tactical ring as well – fits perfectly, must unscrew the tailcap first to lock it in. The stock clip stays on to lock the ring in place. The stock clip is made of high tensile steel and fits on via friction ring which in turn sits under the tailcap for added security. The tactical ring makes the TA30 easy to draw and is suited to security/law enforcement. I just use the standard clip when I EDC this light.
• Takes a 16340 battery or CR123. The included cell has an inbuilt USB-C charging port. Good that it takes primary CR123 cells.
UI – modes
• Tactical mode – one step high / strobe – dual stage tail switch
• Duty mode – full click to turn on, half press to cycle HMLS
• Lock mode.
Performance – total output, beam profile, longevity, practicality
• CCT, CRI, ceiling bounce test
• Beam has significant amounts of flood, with a brighter hotspot – not too strong to blind you at close range, especially on the L/M setting.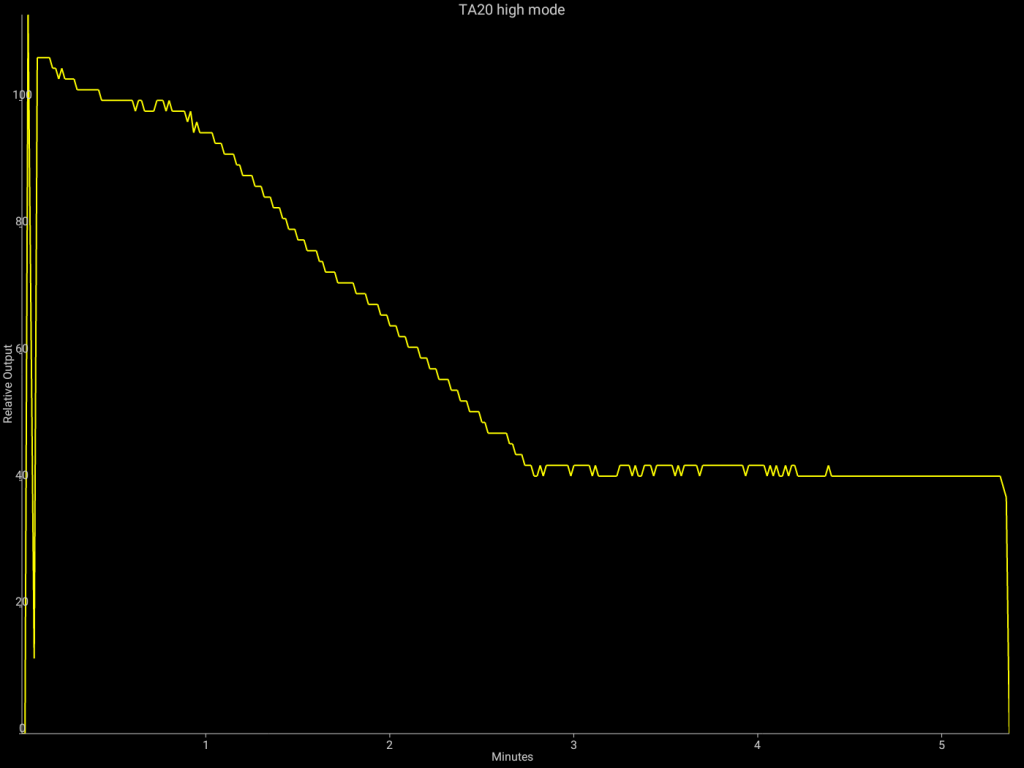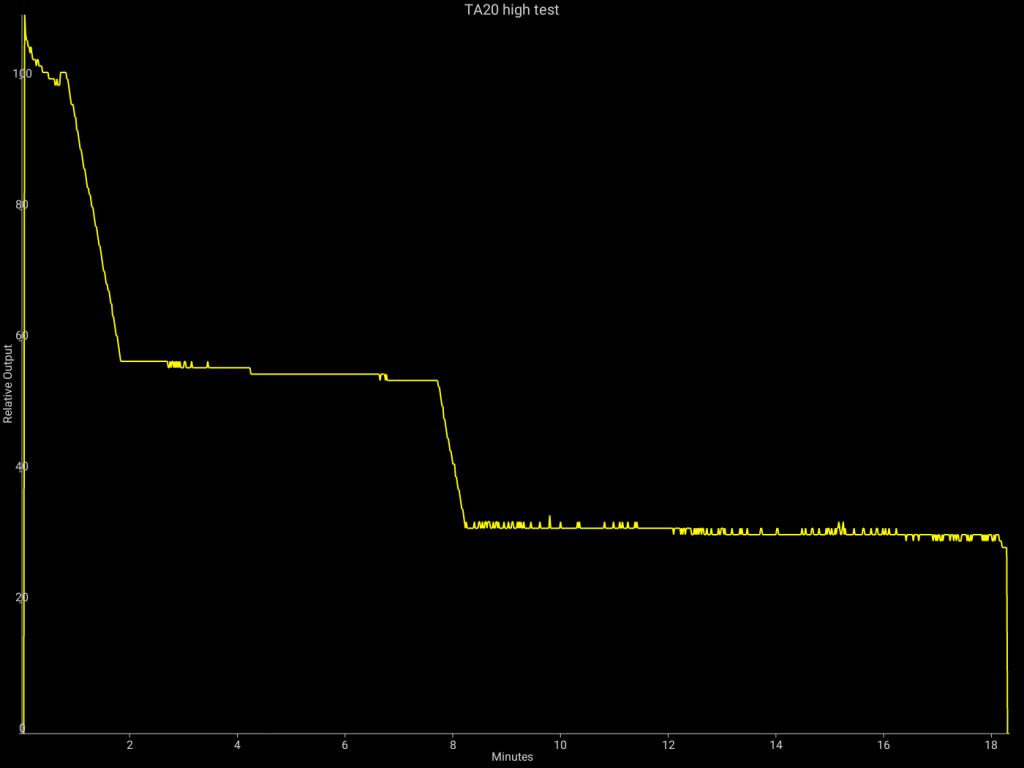 | | | | | |
| --- | --- | --- | --- | --- |
| Nextorch TA20 (Osram P9) | Measured with Opple Light Master Pro – figures based on switch on | | | |
| Mode | Candela @5m | Throw (metres) | CRI (Ra) | CCT (K) |
| Low | 300 | 34.64101615 | 74.6 | 5939 |
| Med | 2025 | 90 | 70.4 | 6147 |
| High | 11825 | 217.4856317 | 70.7 | 6318 |
Considerations
• Shorter runtime on high due to 16340 cell (1 hour 15 mins). Though you'll get 24 hours of runtime on low mode and 2.5 hours on medium, and you have the advantage of being able to use CR123 primaries.
• Would be good to have a battery indicator light.
• Starts on high on both tac/duty modes. Some prefer lights that start on low, but keep in mind this is a tactical light and access to full power is prioritized. No selector ring like in the TA30 Max.
• 30mm bezel – still on the larger side of EDC lights in terms of diameter.
• A little large for 16340, but justified due to specific use – duty light, added durability, heatsinking
Verdict
• The Nextorch TA20 is one of my favorite tactical EDCs – it's compact and unique and fits nicely in the pocket. It also has true tactical functionality! If you're looking for a solid EDC, duty, or backup light, you'll definitely want to consider the TA20.