Nextorch UT41: A Unique Signal and EDC Light that could save your life!
In this video, I review the Nextorch UT41. This is a multi-function signal light with; red, blue, yellow, white, green, infrared, and red-blue flashing lights. This is a great light to have on you or in your bag – it's waterproof, light (29 grams), has a relatively large battery capacity (500mAh), and various colored lights you can use for general illumination or to attract attention.
The clip is one of my favorites, very sturdy, and also has some divets on the back that helps it latch onto surfaces. If you're looking for a unique multi-purpose light, make sure you watch this video!
Get the Nextorch UT41 here:
https://www.nextorch.com/products/ut41-multi-function-rechargeable-signal-light?ref=darrenyeo (10% Off Coupon Code: "DARRENYEO")
---
Please support my work and receive discounts by purchasing recommended products here (affiliate links below):
All Discount Codes (Master Spreadsheet):
https://docs.google.com/spreadsheets/d/15CgzoZD2X7lPhRpYQeR1tFws3DbI1Lmn4AUzIfOpzMo/edit?usp=sharing
My Amazon Store:
https://www.amazon.com/shop/watercolourmentor
Nextorch Flashlights:
https://www.nextorch.com/?ref=darrenyeo
10% Off Coupon Code: "DARRENYEO"
Nextorch UT41: Review
General thoughts after a week of usage/size comparison/practicality/interesting things:
• I've carried this UT41 around for over a week now and have used it as a backup light on my belt and close-range light when attached to my hat, and also as a night light on red (3 lumens).
• Usage scenarios: attach to a bike, alert/search and rescue beacon for outdoor trips, hazard light – broken down car, general flashlight – white is brightest at 20 lumens. Close range light, fishing light due to 2m water resistance, active IR light for Friend or Foe identification – NVG, group identification.
Overall Construction, LED, lens, bezel, and reflector
• Polycarbonate construction. Keeps it light at 29 grams. Transparent case to allow for omnidirectional signaling. Compatible with MOLLE system, or mounting on straps, and helmet rails. The metal clip has two grooves behind it, to ensure a firm grip.
• Inbuilt large capacity 500mAh cell, with USB-C charging.
• Surface mounted LEDs – Red, Blue, Yellow, Green, White, IR lights. Very efficient but low output.
UI – modes
• Power button/mode switch button is slightly elevated. The LED switcher button is lower.
• Tap power to switch modes from constant on, flashing, and off. Tap the lower button to switch between LEDs.
Performance – total output, beam profile, longevity, practicality
• The LEDs are covered by a transparent PC. It also helps to diffuse the beam. The LEDs are bright and uncomfortable to look at directly. The white and green LEDs are almost bright enough to use as a walking light but you'll only get a few meters range. Between 2-20 lumens (blue/white). Green appears just as bright as white, even though it produces 12 lumens.
• Impressive run times between 12-20 hours constant on, or 56-113 hours flashing.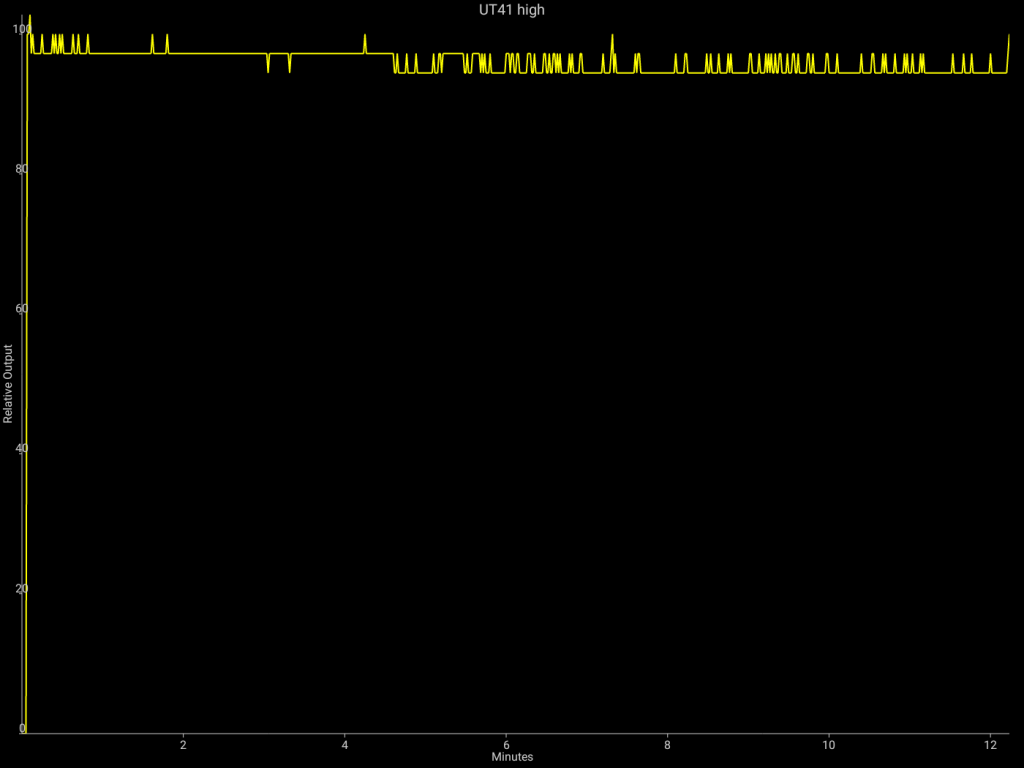 | | | | | |
| --- | --- | --- | --- | --- |
| Nextorch UT41 | Measured with Opple Light Master Pro – figures based on switch on | | | |
| Mode | Candela @1m | Throw (metres) | CRI (Ra) | CCT (K) |
| White | 11 | 6.633249581 | 85.7 | 5962 |
| Yellow | 8 | 5.656854249 | No reading | No reading |
| Green | 8 | 5.656854249 | No reading | No reading |
Considerations
• Short-range lighting only, won't illuminate more than a few meters ahead.
• Polycarbonate construction, but feels durable, especially with the metal clip.
• Non-replaceable battery.
Verdict
• The Nextorch UT41 is an inexpensive, versatile, and multi-purpose light that can be used for many different scenarios. It reminds me a little of my Nextorch K40 in terms of the colored LEDs. I keep mine in my backpack for emergencies or when I forget to bring a proper light with me. It's only 29 grams and was relieved that I had it with me the other day when I was doing beam shots and forgot my headlamp. It provided just enough diffused light to continue working in the dark.