Wurkkos FC13 Flashlight Kit Review: A Worthy Upgrade?
Get the Wurkkos FC13 here: https://wurkkos.com/products/new-release-wurkkos-fc13-usb-c-rechargeable-edc-flashlight-powerbank-ip68-3400lm-239m-5700k-sfn43-led-blf-anduril-20
Please support my work by purchasing recommended products here (affiliate links): https://www.amazon.com/shop/watercolourmentor
https://www.nealsgadgets.com/?ref=darrenyeo – Coupon Code "DARRENYEO" for 15% off!
Build quality, and disassembly:
Smooth matt-black anodizing. The clip is the same double-sided one that I've seen on the FC12.
Reversible tube if you want to pocket the flashlight with the head facing up.
Large button!
I like the cooling fins on the head, they're deeper and more numerous than the previous FC12. The LED produces a lot of heat so this is necessary
The head can be removed but the bezel is sealed with a retaining ring, found on the inner head of the flashlight. I haven't tried opening it but I have seen a forum post of someone using hot glue on the bezel in order to unscrew it. You could probably use a metal compass, or needle nose pliers to unscrew it. I've seen a post showing a successful emitter swap (SFT40). This voids the warranty and Wurkkos does not recommend you unseal the head.
USB C charging port cover is very secure. Much better/smaller than my other lights.
IP68 water resistance.
LED, Lens, Bezel, and Reflector:
SFN43 LED. There's little information available on this LED. It is a 5mm X 5mm LED with 9 dies.
Lens is made of AR-coated glass.
The bezel is interesting, the inner ring has a golden/orange color and creates a nice contrast with the black. The outside of the bezel is black and connects with the body nicely.
Orange peel reflector, relatively shallow due to the size of the flashlight.
Size and comparison:
113mm (length) X 29mm (head)
Significantly shorter than FC12. Similar in size to FC11 but a lot brighter. FC11 is 116.2mm by 27mm.
Show a few different 18650 lights in comparison
Retention and carry:
Very easy to carry and store. I like small lights like these that have the ability to output large amounts of light but be able to ramp down to moonlight mode.
I clip it to the side of my pocket and can barely tell it's there.
User interface, modes, and operation:
My first flashlight with an RGB aux light. It's a useful/fun feature! It has a mode you can select that indicates battery voltage. 7H after disco mode.
Voltage mode
○ 4.4V: white-ish (red+blue+green)
○ 4.1-4.4V: purple (blue+red)
○ 3.9-4.1V: blue
○ 3.7-3.9V: cyan (green+blue)
○ 3.5-3.7V: green
○ 3.3-3.5V: yellow (red+green)
○ 2.9-3.3V: red
○ 2.9V: off
Anduril 2 firmware installed. This can scare off newcomers (it did for me initially) but it's one of the best UIs in my opinion. You can customize the light to whatever you'd like. Simple mode with a few levels of brightness, multiple steps, and smooth ramping.
Batteries and charging:
18650, charges at 2.4A. Comes with a button-top Wurkkos cell but also accepts flat tops. It's brighter on turbo if you use a high-drain battery.
Reverse charging feature for emergencies – power bank.
Performance (beam profile, lumens, and run times):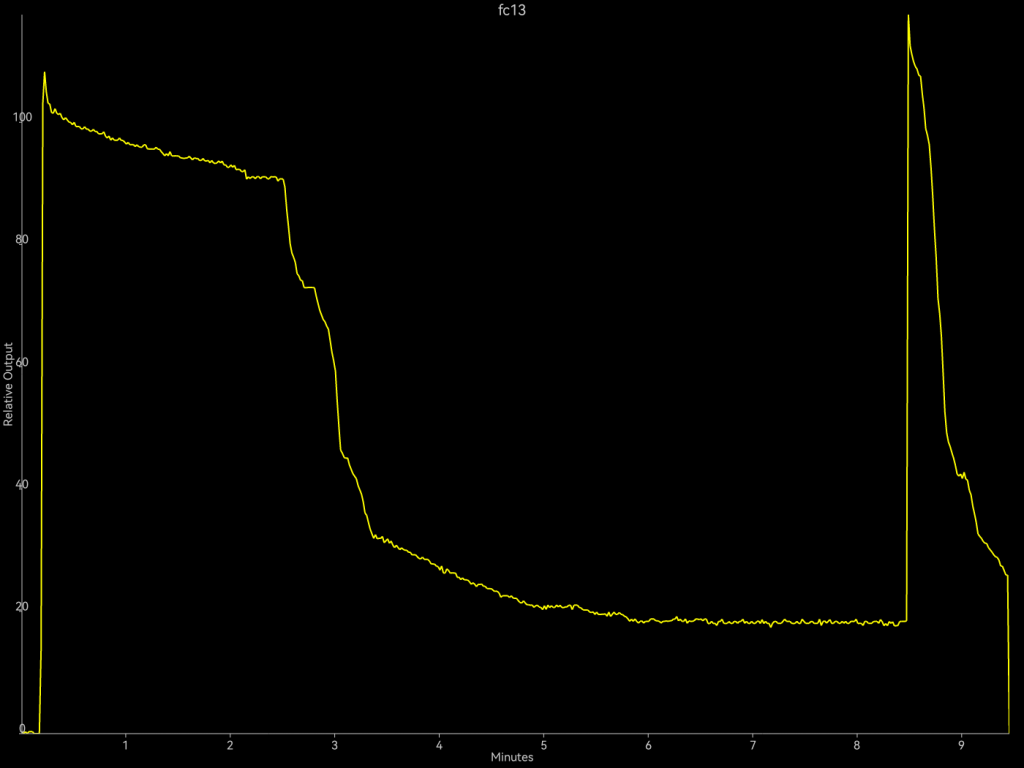 The SFN43 in the textured OP reflector creates a smooth, floody beam with a brighter area in the middle.
Advanced temperature regulation – I set mine to ramp down at 55 deg C. Held 2 minutes on turbo before ramping down. However, the light may not reach the full 3400 lumens, explaining why it can hold turbo for so long.
FET driver – it will be very bright with a freshly charged cell but slowly start to dim as the voltage drops. Similar to the Sofirn IF22a, it's not a big deal for me as I use this light for general usage, especially as it allows you to get the maximum brightness from this LED.
Reached 263m throw on switch on (17375 lx). Gradually goes down to 14500 lx = 240m
CRI/CCT:
| | | | | | | | | | | |
| --- | --- | --- | --- | --- | --- | --- | --- | --- | --- | --- |
| Wurkkos FC13 | | | | | | | | | | |
| Mode | Candela @5m | Throw (metres) | | Mode | CCT (K) | CRI (Ra) | x | y | Duv | Duv interpretation |
| Turbo (Sofirn Cell) | 14500 | 240.8318916 | | Turbo | 7205 | 73.0 | 0.3037 | 0.3138 | 0.0000 | Pure White |
| Turbo (Stock Cell) | 17375 | 263.6285265 | | | | | | | | |
Measured on my Opple Light Master Pro
7200K, 73 CRI measured with my Opple Light Master Pro. Cool white – it's OK but I prefer around 5000K
What I liked/considerations:
Bright for its size, practical beam
Aux light – unique
Anduril 2 UI
1-year Warranty
Considerations:
You MAY need a high drain cell to get close to the 3400 lumens from this light. Jacob from @Piercing The Darkness ran a test with the stock cell and it got just 2000 lumens. On a high-drain Samsung 30Q, you'll get close to the 3400. Also, keep in mind he uses the FL1 standard meaning he takes the lumen measurement at the 30-second point. I take mine as soon as the light:t switches on. I'm Personally, I'm not fussed – I'm happy using the stock cell and carrying it around as an EDC. I'm building a lumen box and until then have no way of testing the overall output at the moment.
I wish it threw further! That's more of a personal thing, as I miss the throw of the FC12. I did pass on some feedback to Terry from Wurkkos to trial an NM1 / PM1 emitter instead – less heat and lumens but much better throw.
Final Verdict: This is a great option if you want a budget-friendly pocket rocket of an EDC. Speaking to Wurkkos, they are looking into trialing other LEDs in the FC13 too which will be interesting.