Wuben X-2 Review: 2,500 Lumen Innovative Flashlight – The PERFECT EDC Light?
The Wuben X-2 is an impressive little pocket rocket that runs off two 14500 cells and produces an amazing 2,500 lumens. Wuben has been changing the perception of what a flashlight should look like, and at the same time, ensuring their lights have impressive specifications for beginners and enthusiasts alike. I like the flat form design as it means you can fit an extra battery without needing to extend the battery tube. If you're looking for a well-priced, floody EDC flashlight, make sure you watch my video.
Beamshots @ 12:52
Buy the Wuben X-2 here (Affiliate Link): https://www.wubenlight.com/products/wuben-x2-compact-and-handy-easy-carry-light-2500-lumens?ref=darrenyeo&variant=43712352289008 (COUPON: "DARRENYEO" for 10% Off)
Bonus March 2023 Voucher (25% Off): "wuben25" !!!
Wuben X-2: Short Review
General thoughts after a week of usage/size comparison/practicality:
I really like how Wuben is breaking the mold on what a flashlight should look like. Not only that, this design is also easily pocketable, even with 2x 14500 cells.
Compare to other similar-sized lights
Overall Construction, LED, lens, bezel, and reflector
High-quality construction and anodizing. Lots of intricate cut-outs, but no sharp edges.
3x P9 emitters with horizontal, overlapping OP reflectors. Glass lens. I've found these LEDs to be very efficient and produce less heat than other emitters like the SST40. Can also get the 3x LH351D version.
Bezel is similar to the body.
USB-C charging under the switch, 2×14500
UI – modes
Modes demo, programmable modes demo. Lockout, strobe.
Performance – total output, beam profile, longevity, practicality
Ceiling bounce test, CRI, CCT, candela
Very wide beam with most of the light focus in the center. Smooth transition from hotspot to spill.
Easily pocketable, just remember to lock it out. 2000mAh is excellent for a light of this size.
| | | | | |
| --- | --- | --- | --- | --- |
| Wuben X-2 | Measured with Opple Light Master Pro – figures based on switch on | | | |
| Mode | Candela @5m | Throw (metres) | CCT (K) | CRI (Ra) |
| Low | No reading | No reading | No reading | No reading |
| Medium | 350 | 37.41657387 | 5663 | 68.5 |
| High | 1200 | 69.2820323 | 5858 | 68.3 |
| Turbo (Spec: 146m) | 6850 | 165.5294536 | 6011 | 69.2 |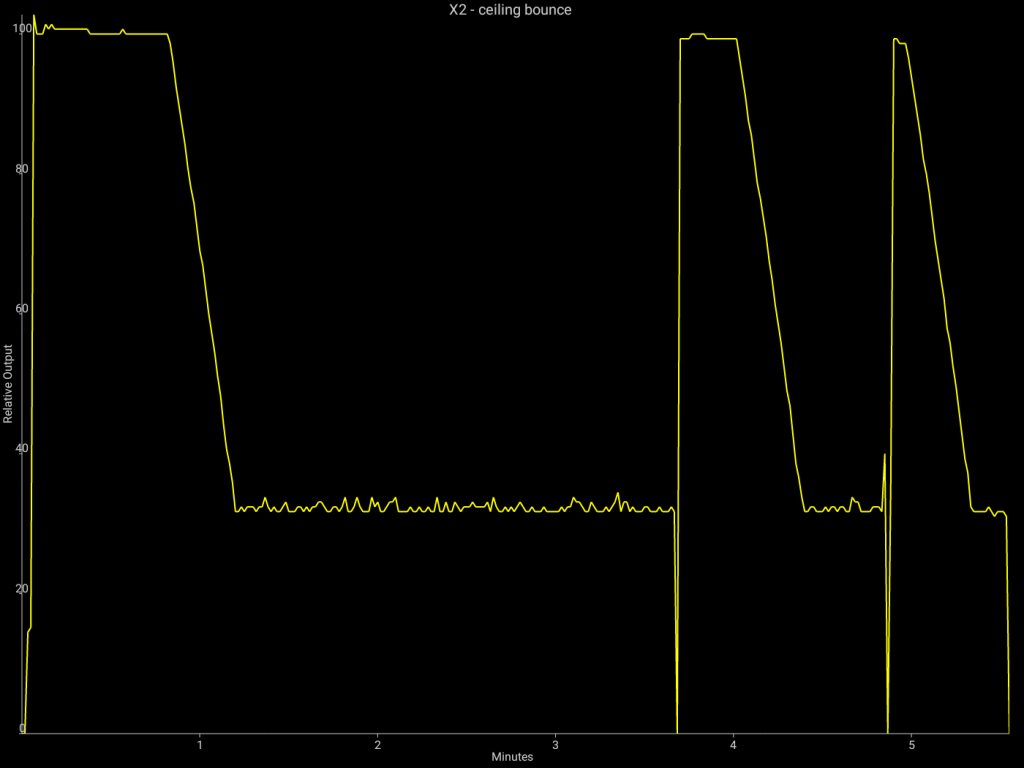 Considerations
Unusual design, batteries appear to be unreplaceable. I'm sure it could be done but the manual says not to disassemble the light.
Verdict
Unique design, high battery capacity, and long run time relative to its size. If you're looking for a floody EDC flashlight, this is the one for you. The design is refreshing but I like it, and it feels a lot more comfortable in my pocket.